Every year, Basel has a professional indoor tennis tournament and since Roger Federer is from Basel, people come from all over to see him play here. It is crazy to think that he was once a ball boy at this very tournament. I wonder if he ever thought to himself... I'm going to win this tournament one day... I'm sure he did.
Again, since Roger Federer is playing in his home town, it is very difficult to get seats and they are very expensive! So, I thought it was going to be impossible for me to go, but when the time of the tournament came, I decided to go to the arena and just see if I could still buy a ticket. Much to my surprise, there was a guy selling tickets right in front and I bought mine for cheaper than face value... I was ecstatic! I was going to be watching professional tennis ALL day!! The only unfortunate thing was that Nate could not join me because of work, but he was happy for me that I could go. He's so sweet. :)
You could watch from two different courts: The center court in the arena, or court 2, which was no bigger than a high school gym and you could sit wherever you wanted. I liked court 2 because I always meandered my way to the front row! Here, I'm watching Korolev. A Russian who's ranked top 50 in the world. And he's Ana Kornikova's cousin!
The guy you see in the picture is Korolev's coach and brother. I ended up talking to him and then he got Korolev to give me a signed tennis ball! He said I was good luck because he was losing and then I came in and he started to win, and ended up winning in a thrid-set tiebreak.
After Korolev's match, the Bryan Brothers (top American doubles team) came in to warm up. I was excited to see them, but I didn't watch their match because Federer's match was supposed to start any minute on the other court. Court 2 cleared out real fast when it was time for Federer's match... poor Bryan Brothers, but I'm sure they understood what was going on!
And there he is.... ROGER FEDERER. I was freaking out inside because he's been my favorite player for a long time and I never imagined being able to see him play!
More action... I loved seeing how effortless and eloquent he is... even more so in real life than on TV!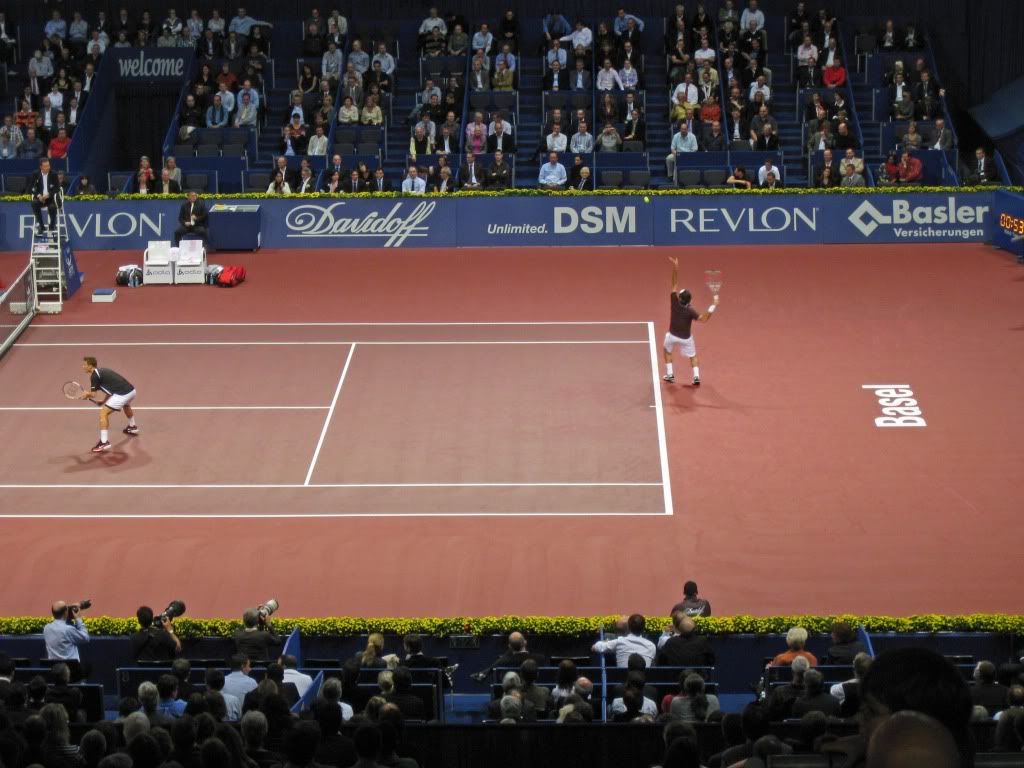 The Federer match seemed to go by way too fast, but once it was done, I quickly went to the other court to see Gonzales play.
Gonzales is a top ranked player and really entertaining to watch. Federer and Gonzales were also playing singles at this tournament. I only had the chance to see them play doubles, but I actually think it's more fun because they are less serious and their personality comes out a bit more. Gonzales and his partner were so nice. They came over and signed autographs after their match. :) And I got theirs right on their picture in the yearbook that you see at the top of the post. I was a little disappointed that Federer didn't come over and sign it when I tried to get his attention, but maybe next time. (haha)
DJOKOVIC! I also love to watch him play. His singles match was the last one of the night. He dominated in straight sets. He was on fire!
Look at that concentration...
The stadium is not very big, which was nice. I walked up to the top to take a picture of the whole court, and this is as high as I could go.
Then I went down close because a lot of seats opened up at the end of the match. Some girl asked me to take her picture, so she did the same for me! I was SO happy to have the privilege to see such amazing tennis... it is something I will NEVER forget!