The day after my sister and her family left, I picked up and went to Romania. I didn't have to work this week, because of Fall Break, so I was able to join the youth team from my church to go on the trip! This is a view from the Parliament building in Bucharest:
Since moving to Europe, I have felt very blessed to have time to do things that I am passionate about.... teaching tennis (even though I did this in Raleigh :)), traveling, and missions. Every time I take part in a mission trip, I always learn something new
.
Even though I might not think it is possible, God seems to reveal different things to me every time. On this particular trip, my eyes were opened to see how blessed we really are... when I saw "we", I mean Nate and I, as well as, America, or any other wealthy country. Growing up in one of the wealthiest countries in the world makes you take what you have for granted. We should be thankful to God everyday for every little thing he has given us, instead of complaining about how we want something bigger and better. And trust me, I am guilty of the latter. But I'm thankful for what I have experienced in traveling to less fortunate cultures, so that I will always be reminded to be generous and grateful.


While we were in Bucharest, we visited the people who are living on the streets. Some of them live in abandoned houses, near construction sites, and even in sewers. We brought them sandwiches & drinks and they were so thankful. We tried to talk them, through translators, and even played a little soccer. The missionaries there are building relationships with all of the homeless people we visited in order to gain their trust, so they can help them get off the streets and tell them about the hope in Christ.
Going down into the sewer...
People on the streets turn to the sewers, especially in the winter months because it is the only place to keep warm.
The Teen Challenge Center.

This is where the boys/young men come to live for one year to get back on their feet and learn the skills they need for when they start their new life. There are currently 19 at the TC Center and they are in desperate need for more space, so as you can see, they have built a 3rd floor, but it is unfinished due to not enough funds. They are praying that they can finish it soon!
We stayed at the center and the mornings & evenings were beautiful...
We took up the old and broken tiles of the front staircase... which was really fun!
Helped put soil down in the new greenhouse...
And even cooked! Cooking for 29 people is just a tad bit different then cooking for 2!

Even though we worked hard, we knew how to take breaks. :) And I learned how to play soccer!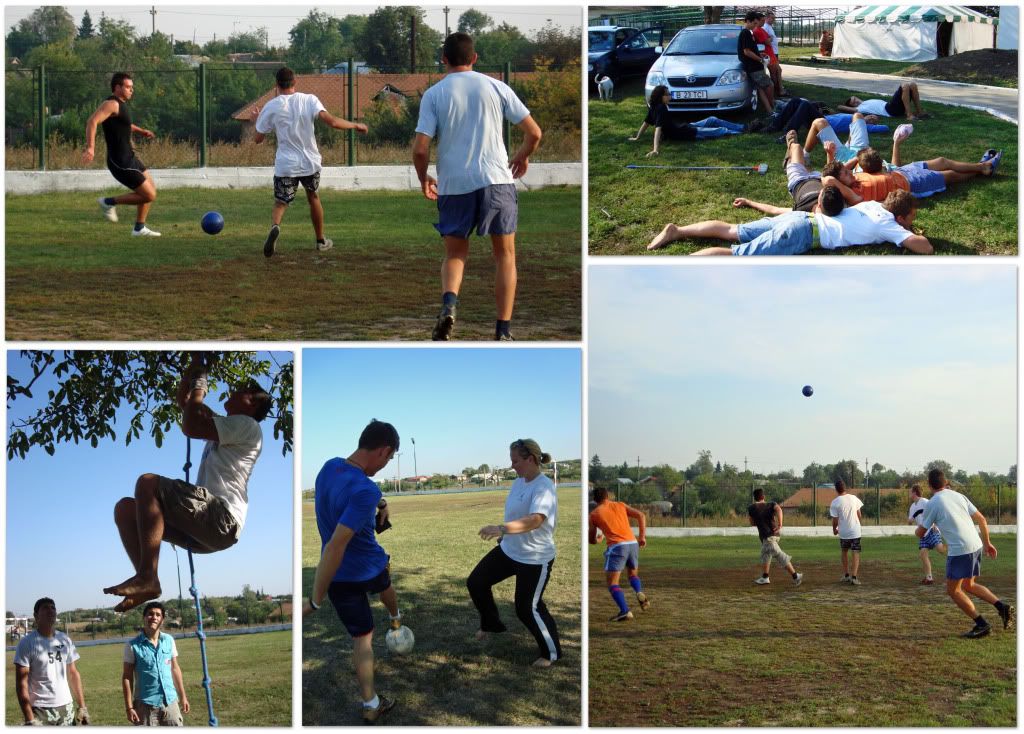 We had such a great time getting to know the the Teen Challenge guys. If you were to meet them, you would never know that they were once on the streets or addicted to drugs or alcohol. That was one of the neatest things for me... just seeing how God had completely changed them and turned their lives around was an amazing thing to witness. Here is one last group picture of all of us before we left.
If you would like to read more about Teen Challenge or make a donation,
click here.