You'll never guess where where we went first with my sister's family... the Swiss Alps! Okay, maybe you already guessed it, but come on, they are so beautiful and close, that who wouldn't want to vacation there!?
We took a train ride and Camden absolutely loved it. I lost count of how many times he said "train" and "choo choo" while riding. It was so cute!
Seth and Joy had already visited the Jungfrau region, so we decided to go to St. Moritz. Nate and I also went to St. Moritz when my parents were here. You can take a
look
and see the difference in the amount of snow! When we arrived in the afternoon, we took a quick lift up and went on a short walk.
On the ride back down, Camden decided to entertain the other passengers by "pole dancing." It was hilarious! Don't know where he picked that up!!
The next morning, we went to a higher place and had an amazing view. Notice Camden in Seth's back pack!
Here we are after hiking up to the very highest point. It was a bit colder at the very top and I don't think Camden liked that! (as you can see in this picture, he is a little upset!)

Our hotel was right next to a beautiful lake, so we just hung out there and fed some ducks!
Then went for a walk...
The next morning we took a train ride to Diavolezza.
It is a gorgeous mountain range right next to Italy...
Camden was happy to see all the snow!

This wasn't exactly the safest place for children. Joy is making sure she holds on tight to Camden's hands, so he doesn't slip and fall on the icy snow.
The weather was amazing. Last time Nate and I came here it was a so foggy... you could barely see your hand in front of your face. We were grateful for the clear skies!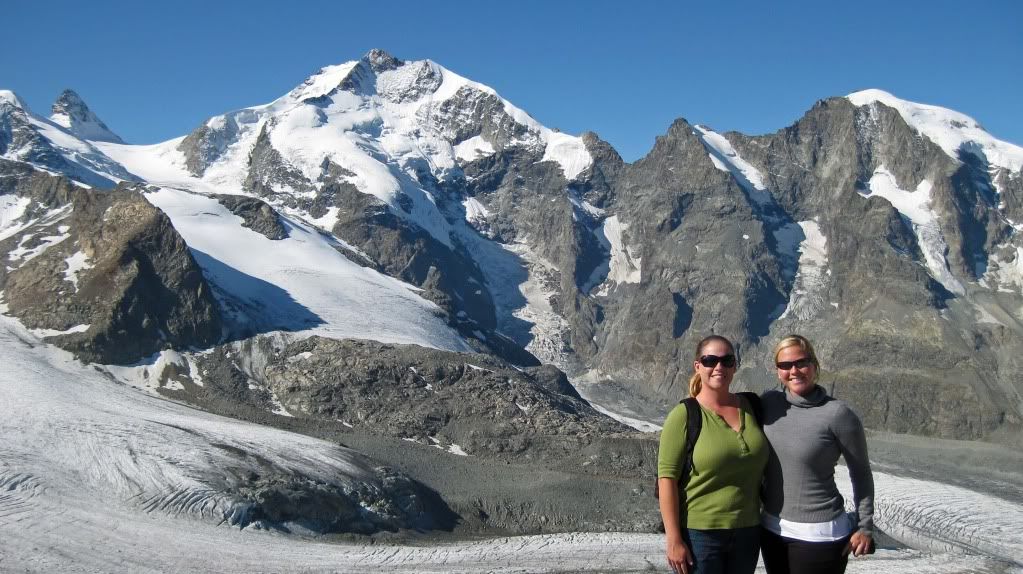 Sometimes Seth would run ahead on our hike... you can see him waving back at me and Joy. Is he waving for us to hike up faster?

At the end of our last day, we found an amazing park for Camden to run around and play. It was a little more child-proof. :)
Seth took some good shots of me chasing Camden... and I caught him!
Somebody wants to get on the seesaw...
But when he finally got on, he was a little disinterested or scared... not really sure which one. But Joy and I sure had fun... it went so high! I think it's meant for grown-ups.
After a wonderful and relaxing time together in the Alps, we headed back to Basel to hang out with Nate & Jake (Camden's new buddies)!