What is Fanacht? Fasnacht is difficult to describe and better to experience. I'm not sure if I can do it justice, but let me try to explain. To begin, let me bore you with some details. Don't worry, you'll see pictures soon enough.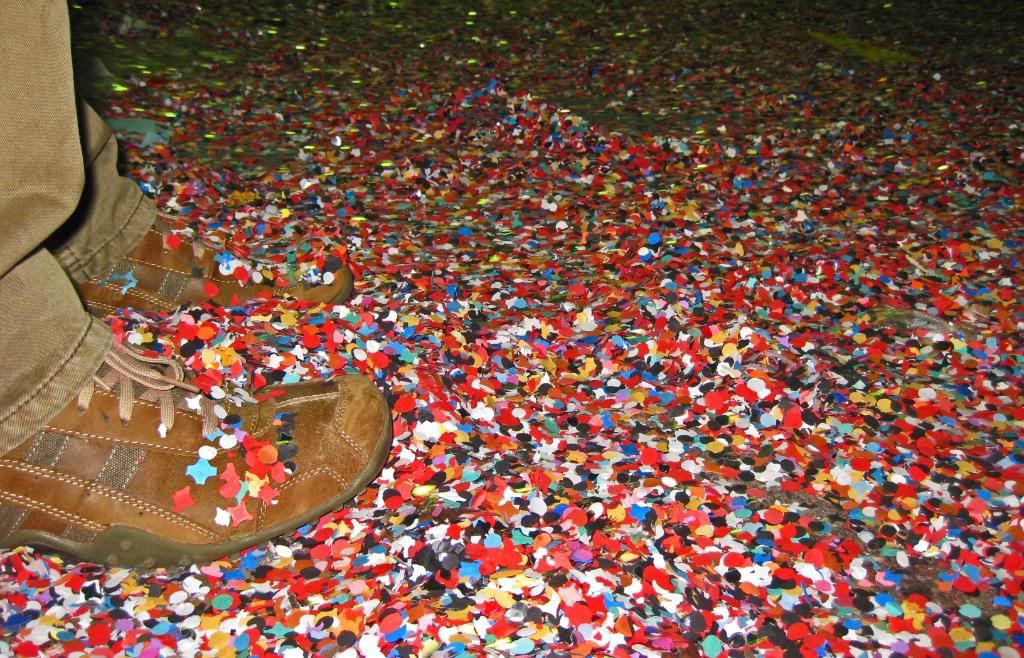 No doubt about it, Fasnacht is the biggest event of the year in Basel. All hotel rooms are booked, trams are re-routed around the city-center, and many businesses close. People that have grown up in Basel either hate it or love it. The people that hate it go skiing in the Alps for the week, but the people that love it, call Fasnacht, "the three most beautiful days." Fasnacht is Basel's carnival. A time for the Baslers to let their hair down and act crazy. Keep in mind, I mean Swiss crazy. One could argue that Fasnacht's American counterpart is Mardi Gras,
minus the excessive drinking and bodily exposure.


In most places, like New Orleans, carnival immediately precedes the Catholic Lent season because it provides one last chance to party before 40 days of self-denial. However, Fasnacht begins on the Monday night after Ash Wednesday (the traditional beginning of Lent), since Basel is a Protestant town. Consequently, Fasnacht is known as the only Protestant carnival in the world! Specifics about Fasnacht's origins are obscure, because the great earthquake of 1356 destroyed the city's archives. Yes, that's right, 1356. If history is not your strong point, let me put this into perspective for you. The USofA formally became a country in 1776. That's 420 years

after

the earthquake! Said differently, that's 136 years before Columbus discovered the New World! Okay, enough details for now, let's get to the pictures.
Actually, I lied. Before we get to the Fasnacht pictures, let's talk about the fire parade. Yes, that's right, a parade of fire! It's a little boy's dream, but a lawsuit waiting to happen. This parade will not be coming to an American town near you anytime soon. The fire parade takes place through the middle of Liestal, a small suburb of Basel. Their fire parade takes place on the Sunday before Basel's Fasnacht. I've been told that the purpose of the parade is to drive away winter but I think it's just an excuse to play with fire.

Is it hot in here, or is it just me?

This picture was taken with the flash. You can really see all the smoke and ash that was floating in the air.

After the torches passed by, the big fires came rolling down the street pulled by a group of men. The bigger your group, the bigger your cart, the bigger your fire.

The big fires were HOT! When the guys pulling the cart decided to take a break right beside us, we had to turn our backs to the fire, because the heat was so intense. You can see the people in the background doing the same.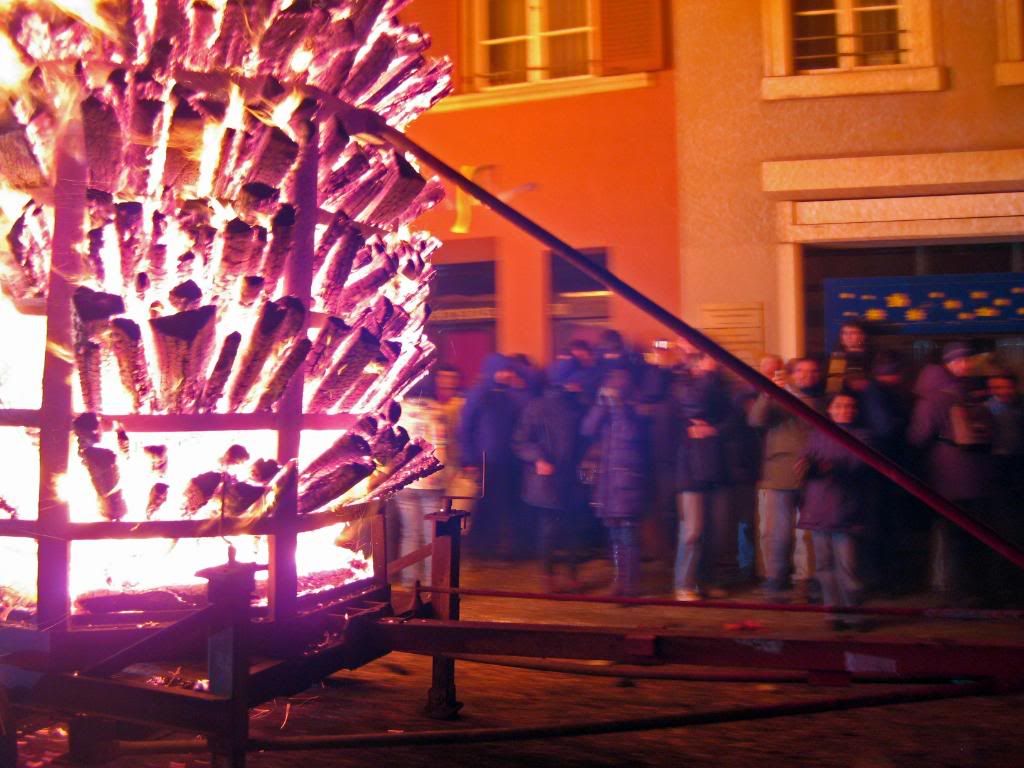 Keep in mind, these fires were being pulled down a street with medieval, wooden houses on either side.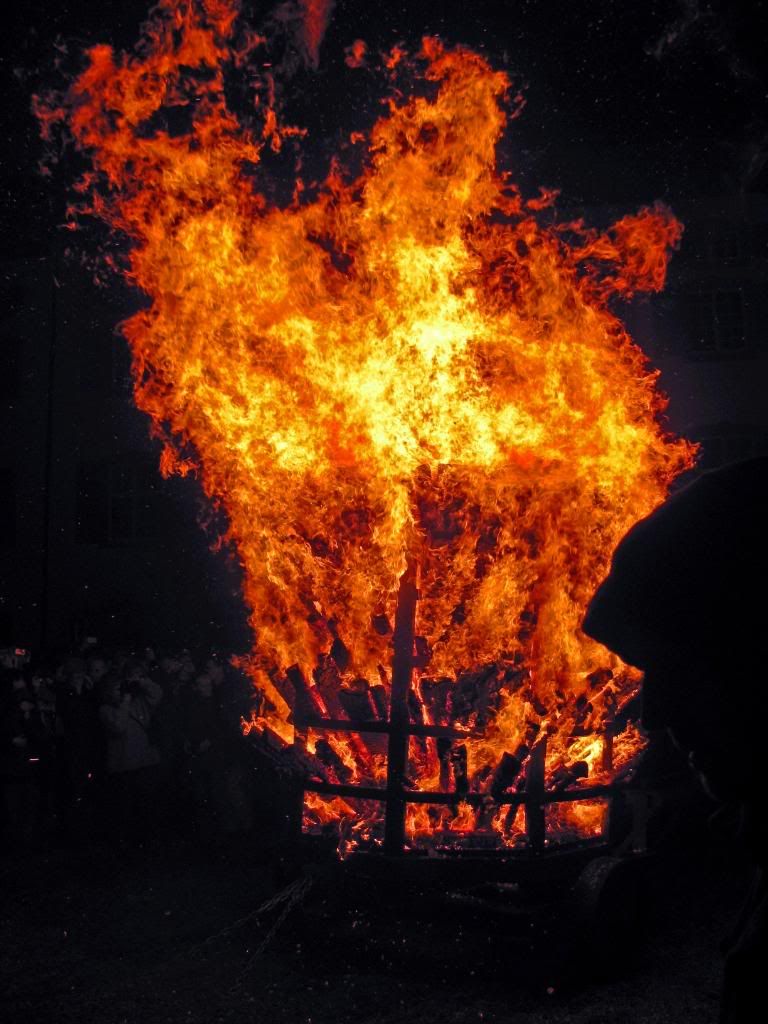 Don't worry, the firemen were there to make sure the fire didn't get out of control!

Liestal's fire parade is a one-of-a-kind experience.
Needless to say, we enjoyed it!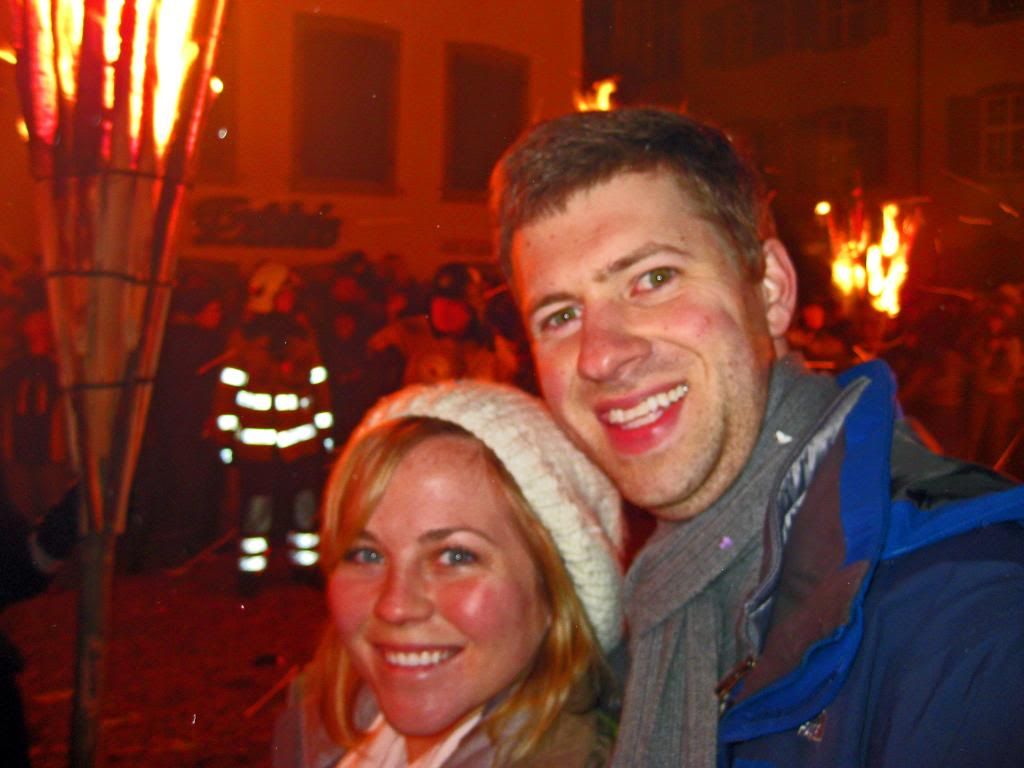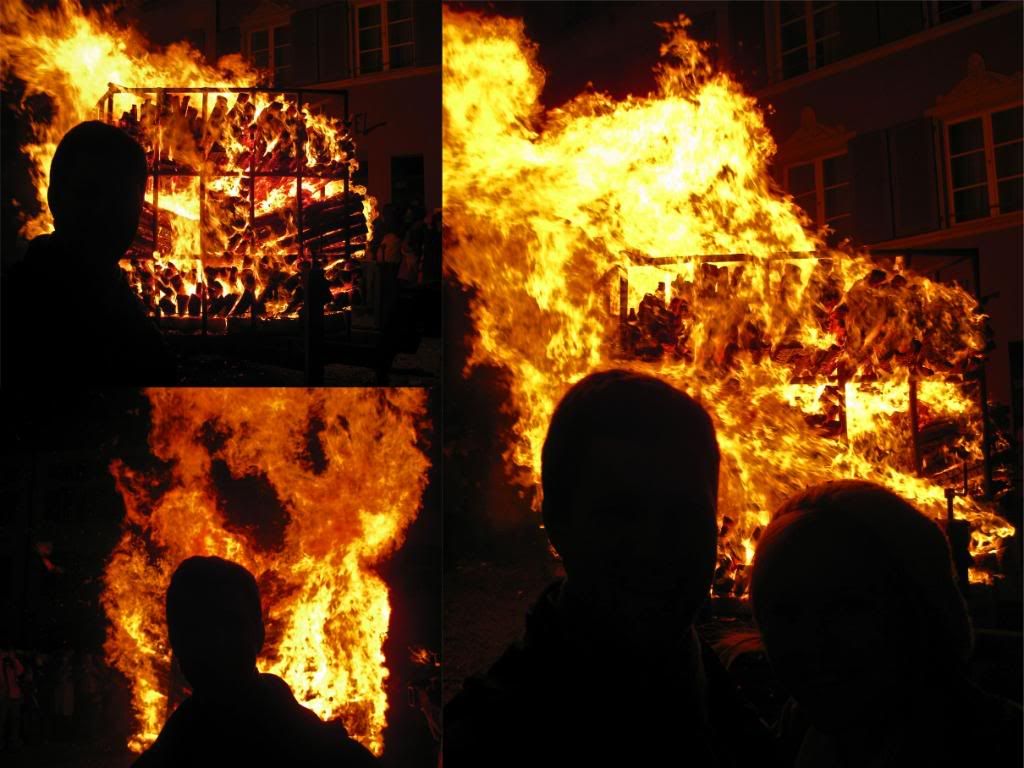 Okay. Let's get back to Fasnacht. Fasnacht begins at 4:00am with Morgestraich. Yes, 4:00am. What is Morgestraich? I'll let Maria explain.... (Maria disclaimer: Keep in mind that I woke up at 3:30AM and I'm a little out of it.)

If you didn't understand Maria's explanation, let me try to help. At 4:00am, all the lights in the city-center are turned off and the parade begins. The parade participants are members of the various Basel Cliques. The Clique members dress in crazy costumes, wear silly/scary masks, and typically play an instrument. The only
light source for the parade comes from the Clique's lanterns. There are two types of lanterns: large lanterns pulled on carts or smaller lanterns worn on the head. The lanterns, often coordinated with their costumes and masks, portray the Clique's selected theme of the year. These themes typically address a current event and 2010's popular themes were UBS' greed, Gaddafi's craziness, and the new bike helmet law.

Not sure what the themes of these lanterns are. I think they're just supposed to look pretty.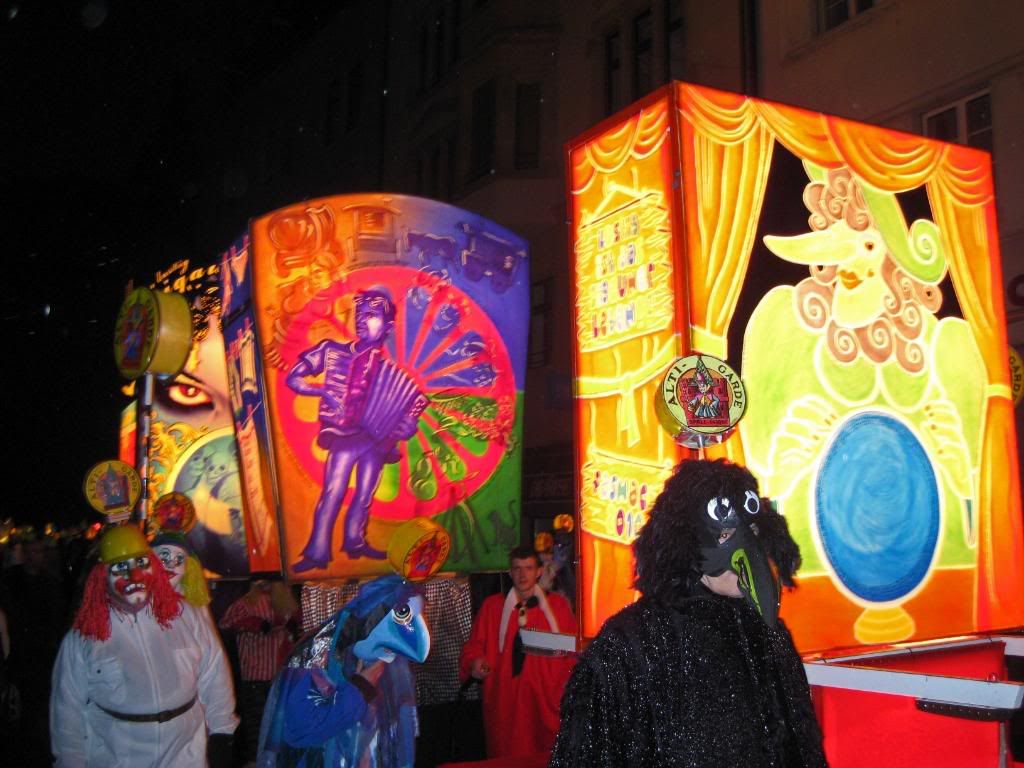 After a morning of sleeping-in, another parade starts in the afternoon. Since it's light outside, there are no lanterns. However, the lanterns are replaced by floats. Clique members ride in the floats and throw various things at you.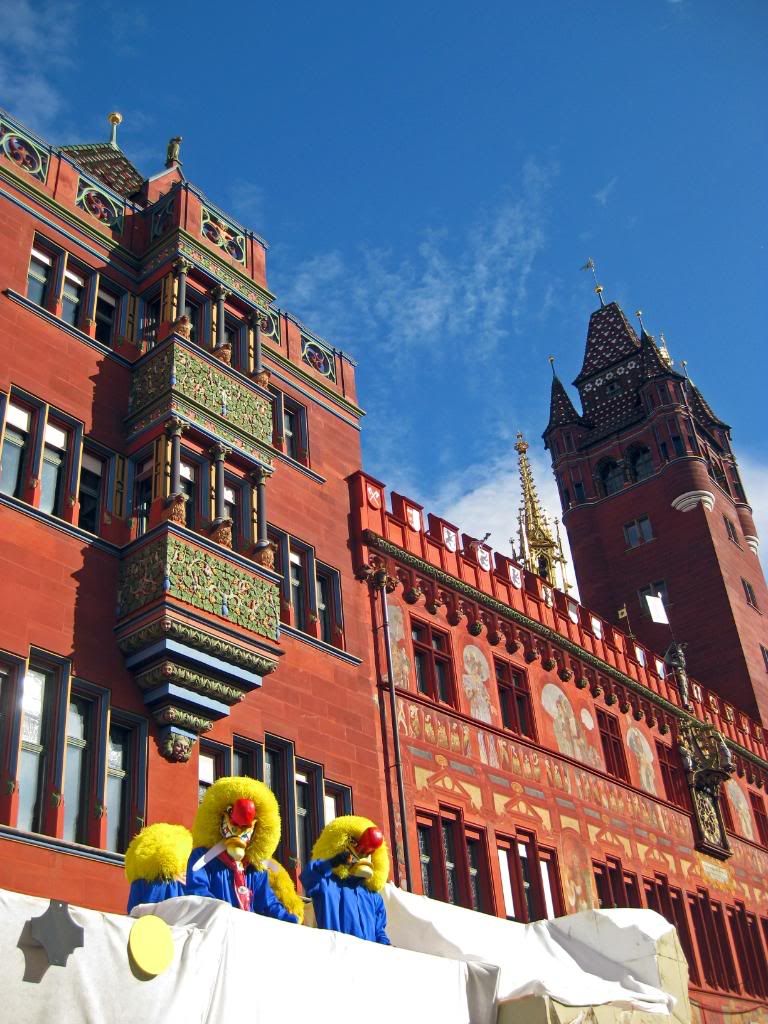 Sometimes they throw confetti...

Sometimes they throw oranges...

Sometimes they just give out flowers to beautiful ladies...

Regardless of what they're throwing/giving out, there is always high demand.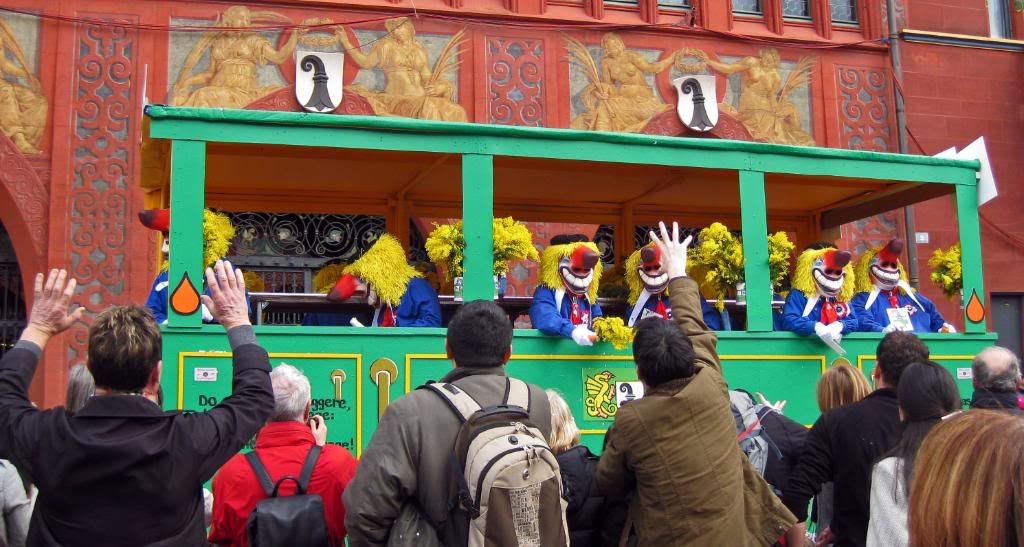 One of the best parts of the parade is the bands!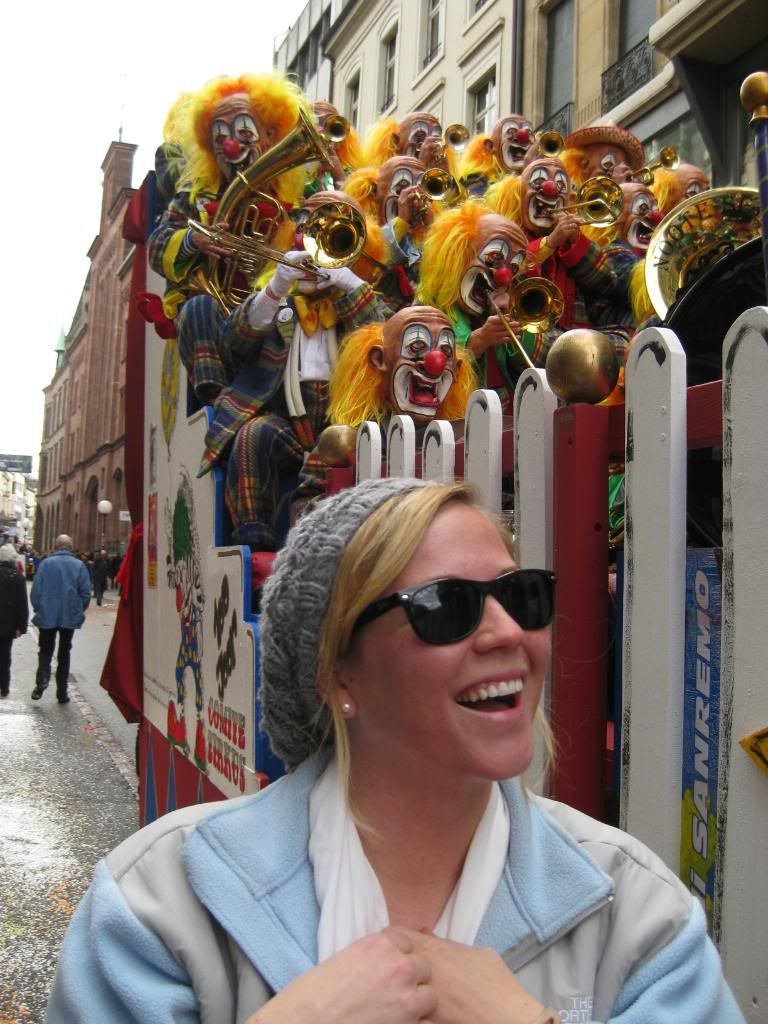 Another great part of the parade is confetti! Native Baslers claim that the tradition of confetti began in Basel. Not sure if it's true, but there is no doubt that they know how to throw some confetti! However, they only sell single color bags of confetti in town, because an old Swiss lady gave Maria a stern lecture after Maria picked up confetti off of the street to throw at me. Maria learned the hard way that, "even Swiss children know that mixed confetti is dirty confetti."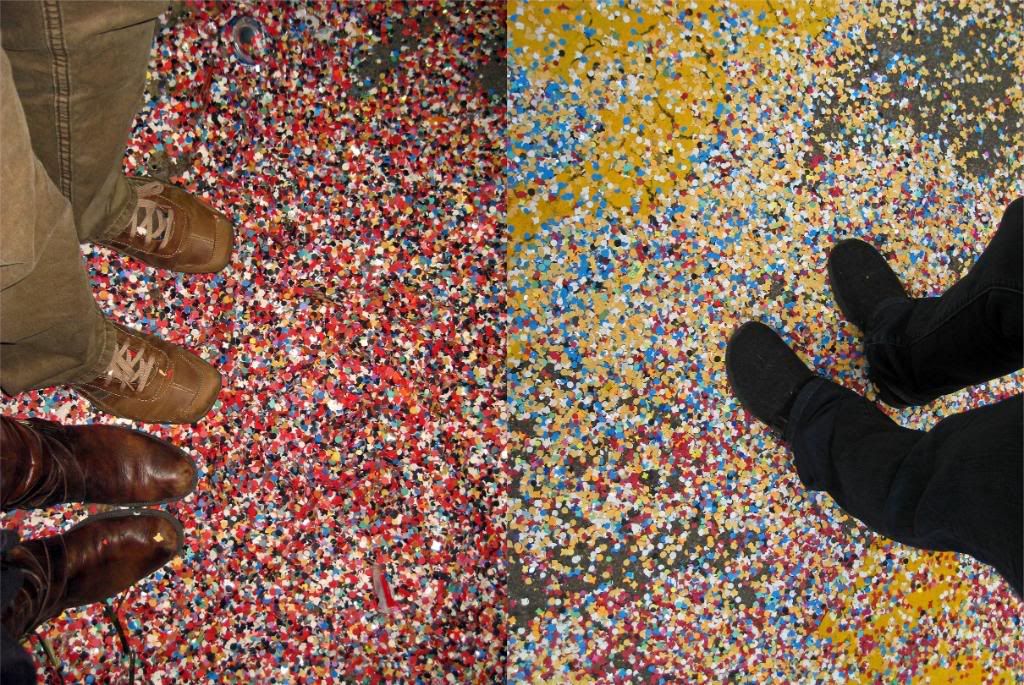 Here I am trying to dodge confetti.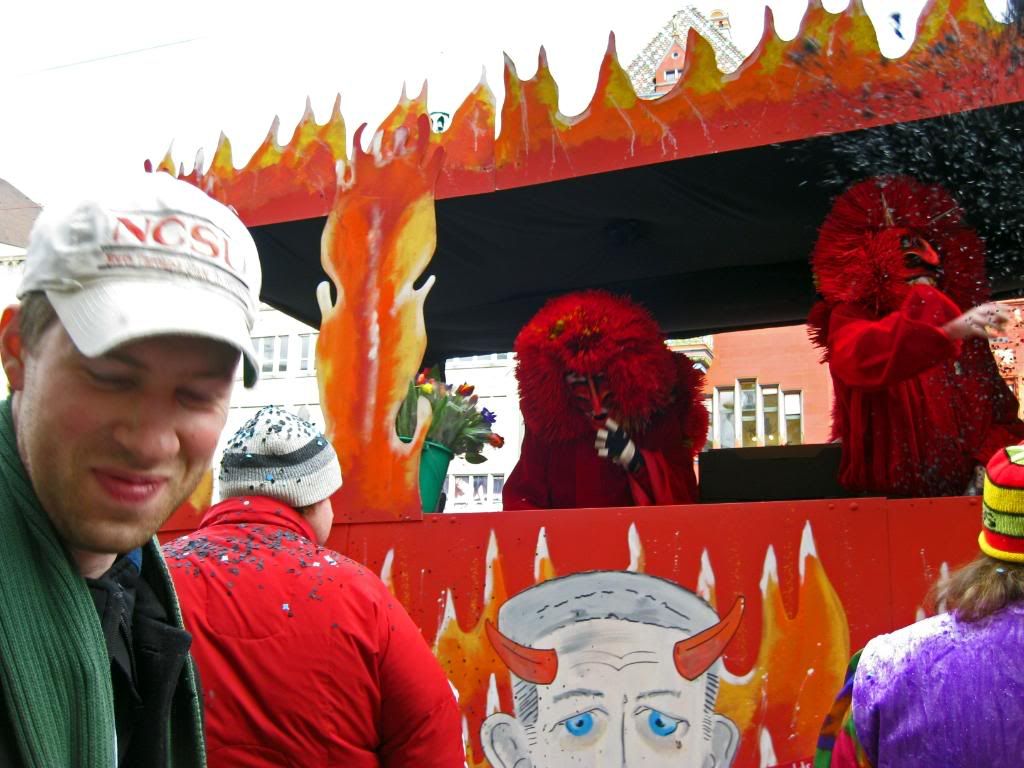 Maria was sad that none of the Clique members threw confetti at her, but pout and you will receive. Here's the before and after pictures.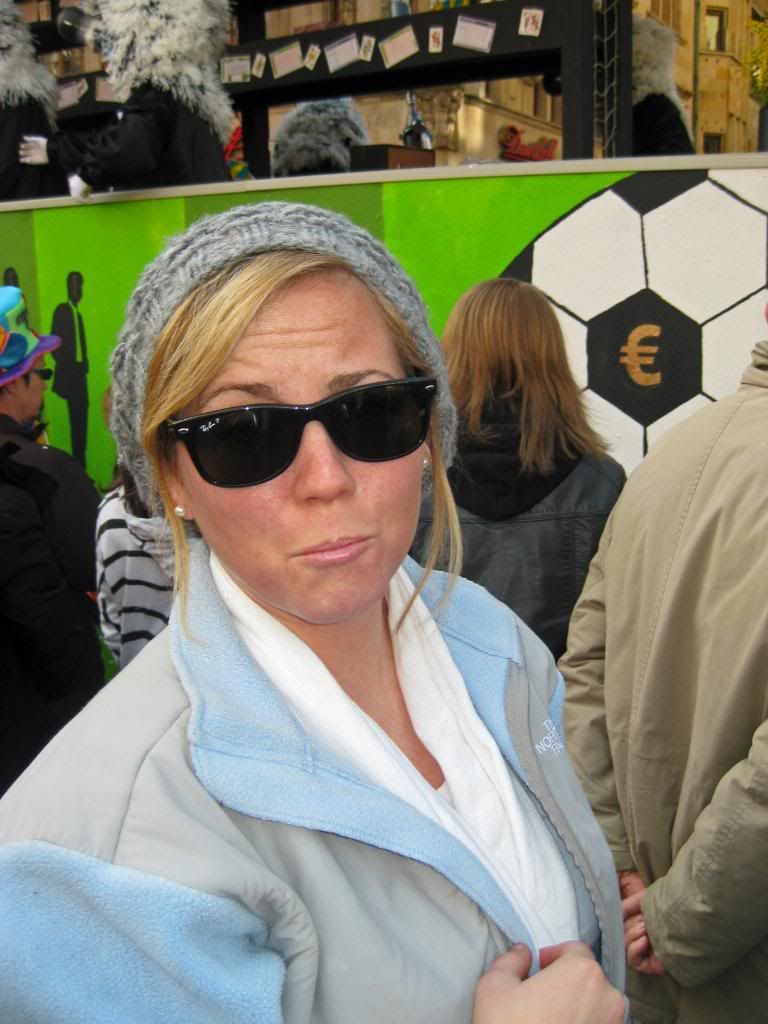 Happy Wife = Happy Life.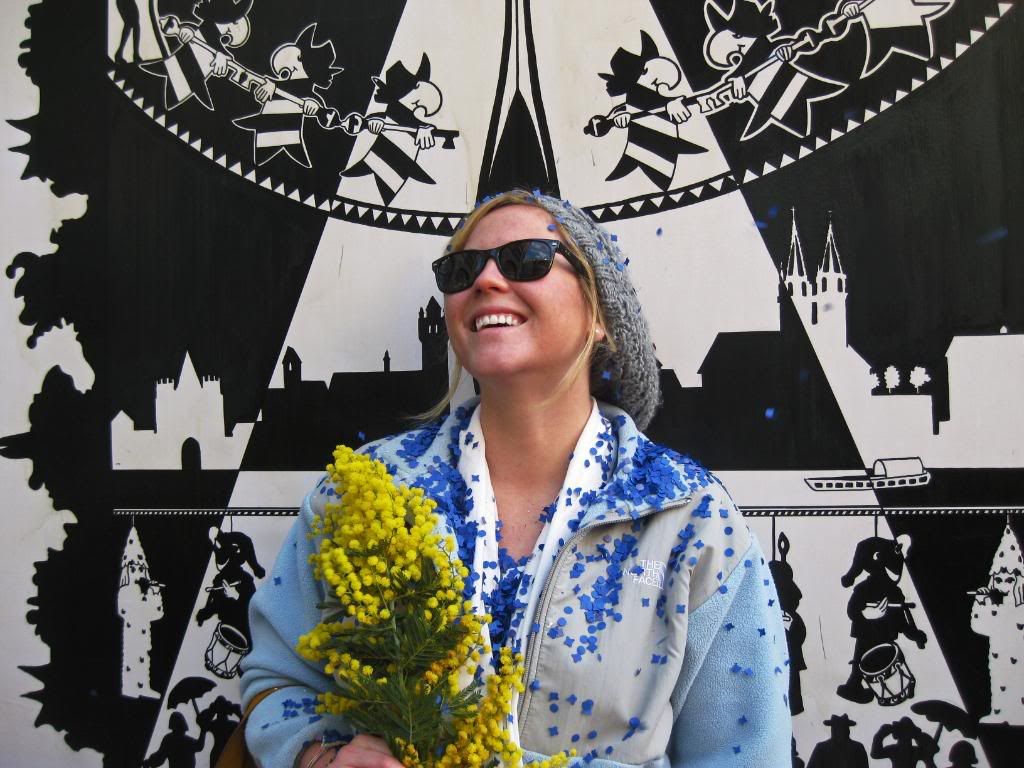 Another great part of the parade was the costumes. Here's a sampling of some funny/silly costumes.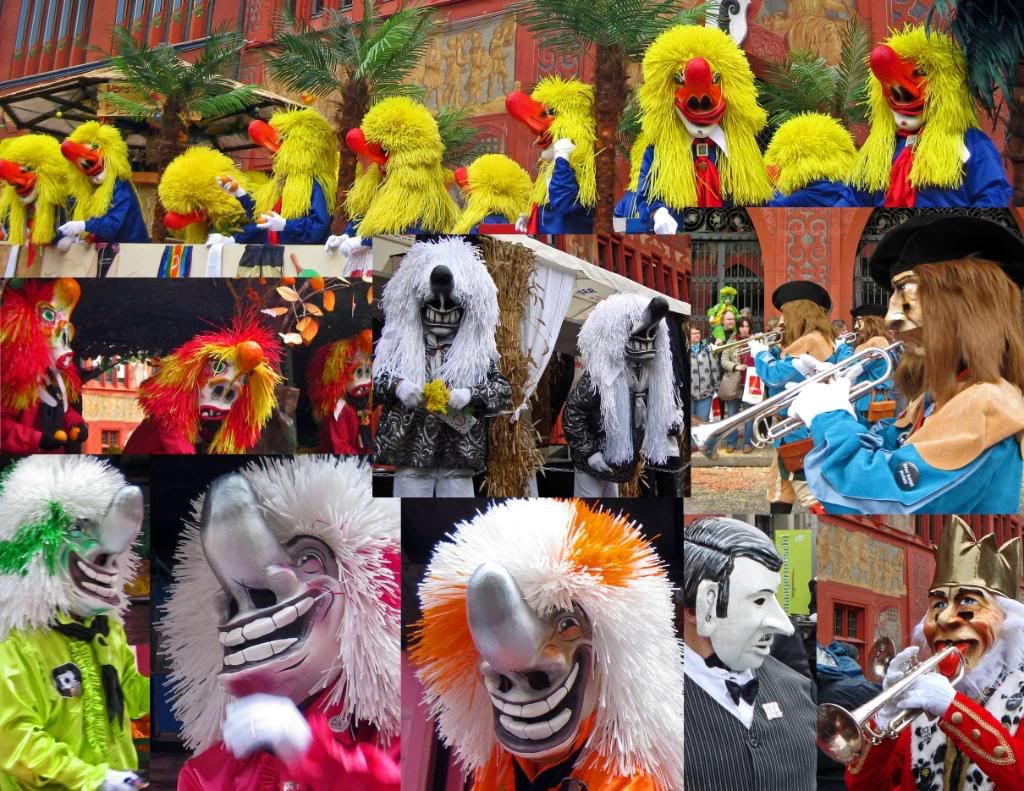 And here's a sampling of some of the more offensive, not-so politically correct costumes. I don't think that all of these costumes would fly in America, but maybe something is lost in translation.

(These costumes are in no way endorsed by
www.mariaandnateineurope.blogspot.com and simply represent the
opinions of the depicted Cliques.)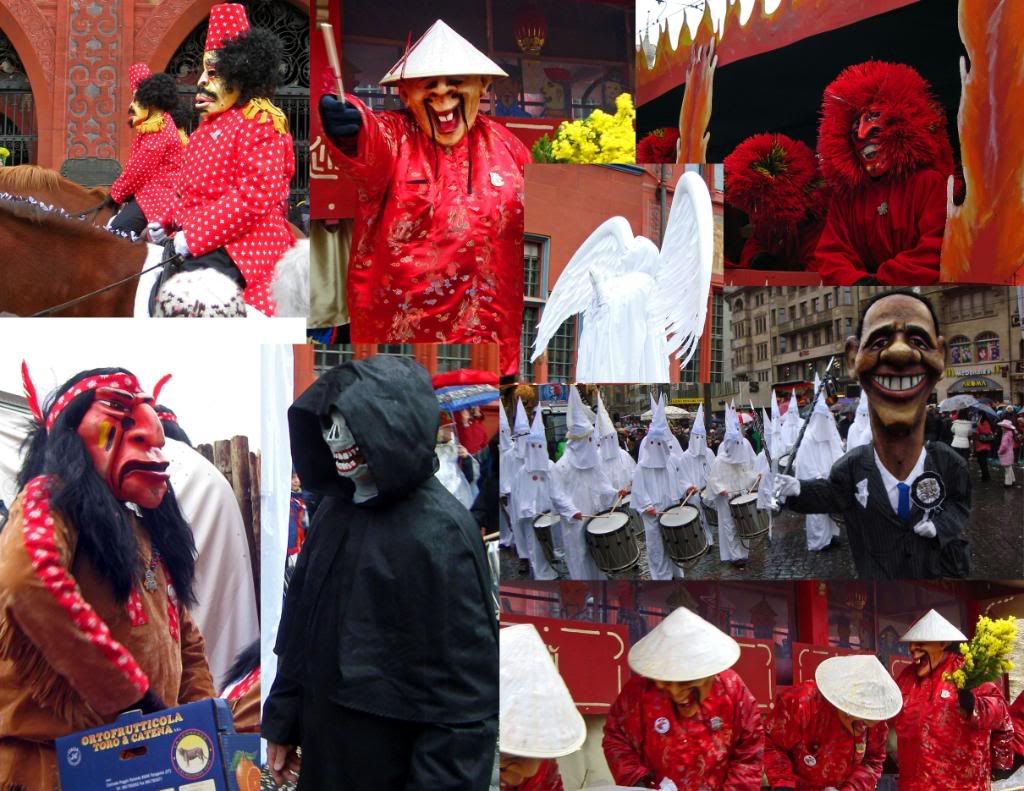 After a long, fun afternoon of catching oranges and dodging confetti, it was time to make our way back home. Unfortunately, making our way back home was easier said than done.