When our friends, Teran & JJ returned back to Basel after being in Rome, they were a little tired, but we mustered up enough energy to "hike" in the Alps. Little did we know we would run into massive amounts of snow on our hiking trail! But it was okay because we ended up having a blast in the snow!

Instead of hiking, we decided to build a snowman! It was actually really hard to make because the snow was so fresh and powdery, but eventually, we did it! We named him Snowie or Alpie or something... we couldn't decide on one :)
We also had snow ball fights!
The boys disappeared for awhile and then, out of nowhere, they came running at us with ready-made snowballs and tried to hit us with them, but we were too fast. :) You can see the boys' attack in this picture (from left to right):
We also hid in trees... okay, that was just JJ. Click on the picture to see if you can find him! Teran's not really sure what he's doing...
We weren't the only ones having fun in the snow, Jake also loved it! He ran around so much that he was absolutely exhausted on the train ride home! (see the pics at the end)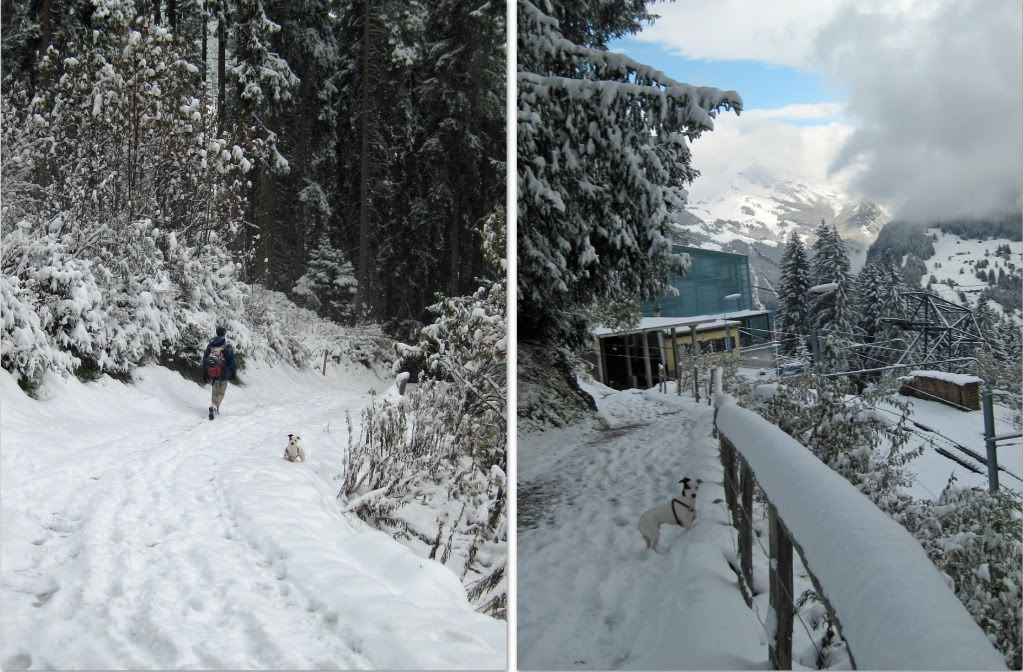 After a great day of playing in the snow, we were cold and hungry, so we went to a great Swiss restaurant to warm up and eat some yummy food.
The plate on the right is a Swiss dish called rosti. It's hash browns, lots of cheese and an egg on top... it is delicious!
Our last group picture together. Teran is great at using self timers on cameras. :) Look at the snow line on the mountains!
The skies really cleared in the evening and it was simply beautiful. I love this picture of Teran & JJ...
As I said, Jake was wiped out after all the running around in the snow. Usually, he freaks out on train rides (ie. doesn't sleep), but this time he couldn't fight it any longer. The fact that he has to be in a "bag" on Swiss trains makes these photos just that much funnier!