I don't really know where to begin, but I'm going to take you all the way back to November when my good friends, Kari & Bobby visited. I first met Kari while I was working at Cotton Inc. We still kept in touch after I left Cotton, so she and her husband, Bobby, decided to come visit us in Basel
.
Unfortunately, the weather wasn't the best at that time of year, but we still had a wonderful time together. Their first full day, we walked around Basel...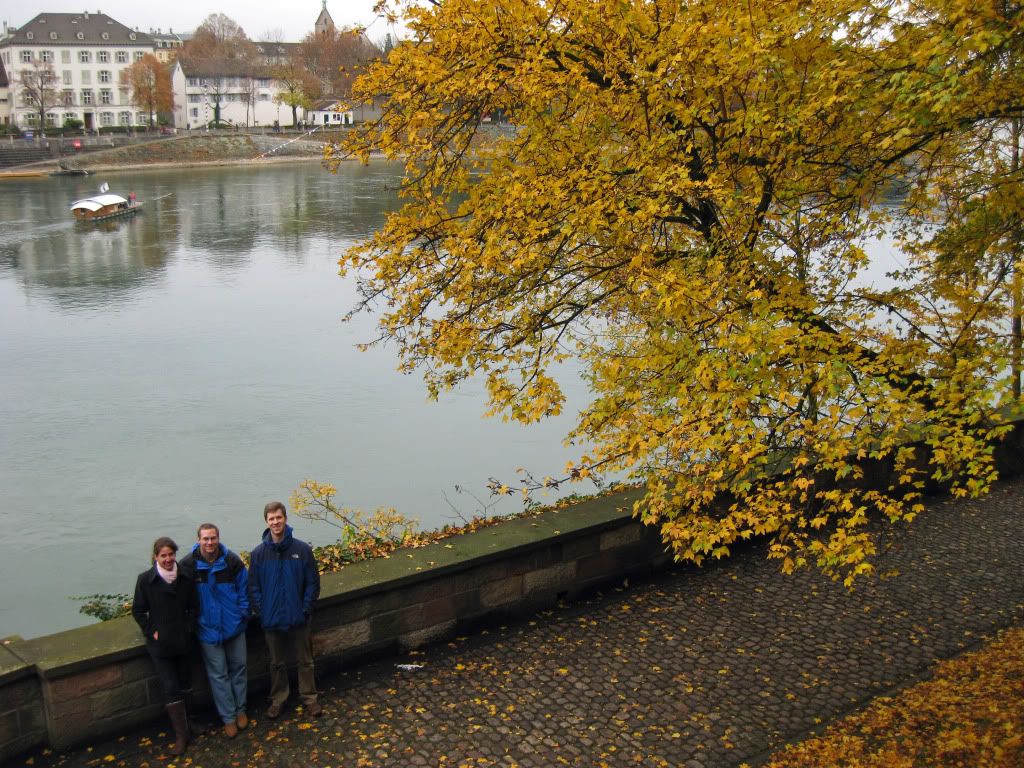 We took our very first ferry boat ride!
That night we had a relaxing evening at home with Kari's (newly discovered) favorite food, spatzli, for dinner. Those of you who have come to visit, know what I'm talking about. Kari, did you ever find that in NC? :)
The next morning, Kari, Bobby, and I took a road trip to Germany and Austria. When I printed off directions from Google maps, I must have accidentally done the "scenic route" because it took us forever to get there on back roads and we got lost a couple of times... whoops! Fortunately, Bobby was patient and we were able to stop a few times to ask for directions. Sorry guys. But... isn't it funny looking back on it now? ;)
This is funny: The last time that we got lost on the way to the castle, we stopped at a McDonald's (of course) to ask for directions. I went in and asked the first random person I saw for directions. And did I ever pick the right person. This guy was with his girlfriend in line and after I approached him, he just said, "follow me," and walked right out of the restaurant.. got into his car (with his girlfriend) and waved at us to follow him.

At first we were a little weirded out... thinking, where is he really taking us?? But after driving about 10 minutes, we arrived at the castle and then he turned around

to go back to McDonald's for his "date." Talk about the most random act of kindness ever! But we were very thankful.
I was a little embarrassed for getting us lost, since I had already been there, but in my defense, Nate was my navigator... and I was only concentrating on driving. Not the direction to which we were going. So, when we finally made it, I was very happy!!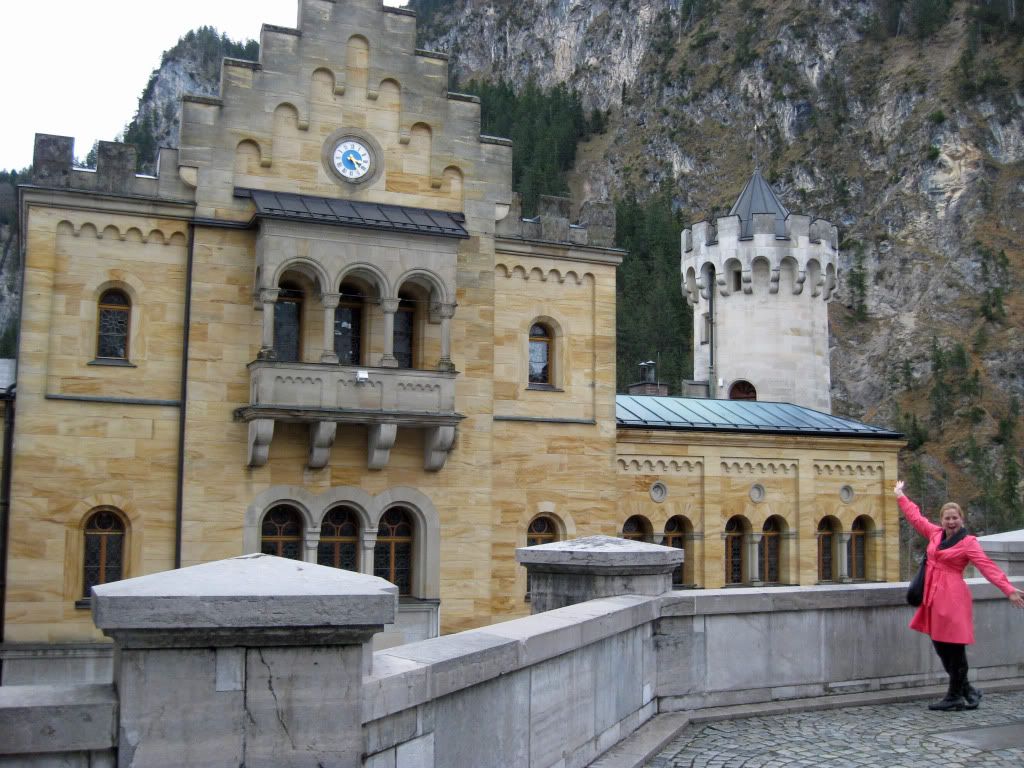 Inside the Neuschwanstein Castle's courtyard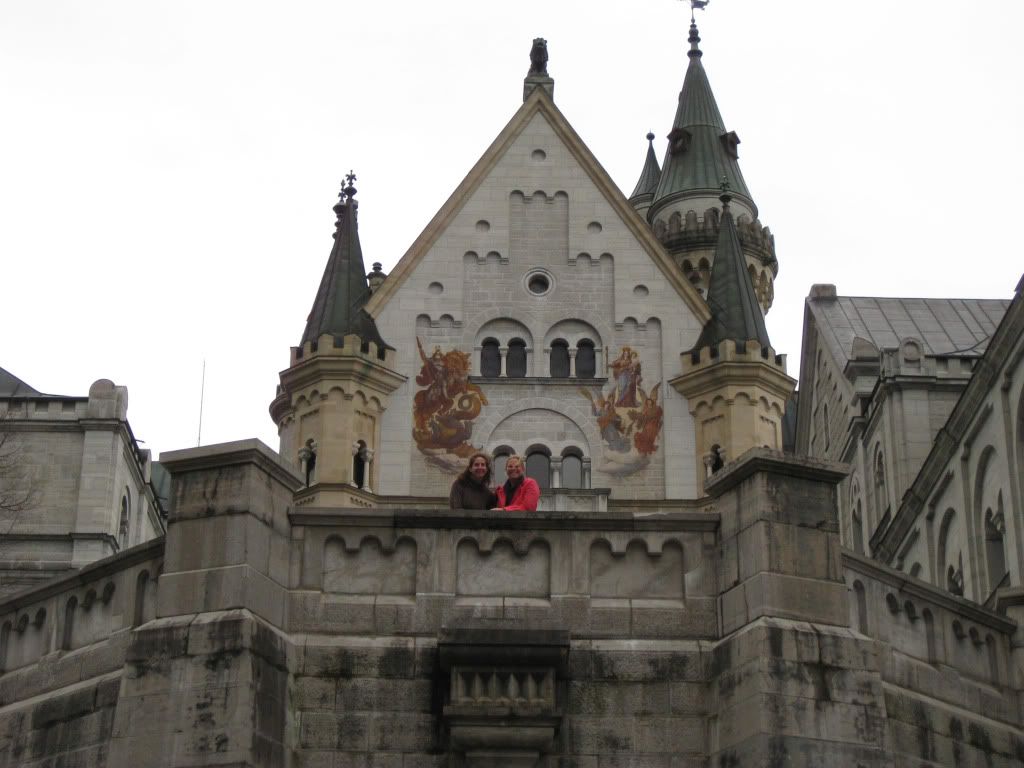 After Kari & Bobby toured the inside of the castle, it quickly turned dark. Below is... a view from a window in the castle, K & B in front of the castle that crazy King Ludwig grew up in, and a side of Neuschwanstein.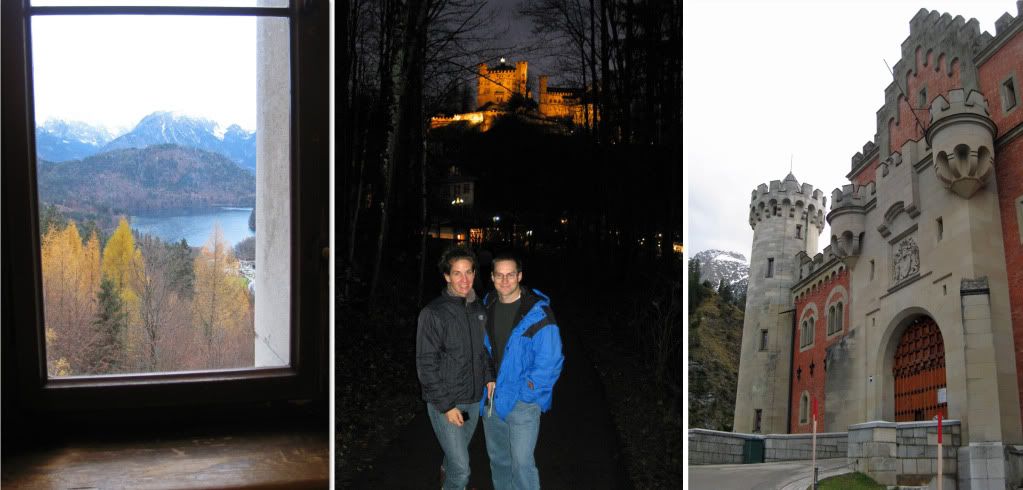 We then headed to our hotel. We were sooo hungry and fortunately, the food was excellent. I forgot to take a picture of dinner, but desert was photo-worthy. The next morning was beautiful... as you can see in the photo below on the right.
The next part of our trip was the primary reason we took our journey to that area. Bobby expressed interest in going to a concentration camp, so after some research we decided to go to Dachau. Dachau was the very
first
concentration camp built in Germany. It served as a model for all other camps that followed...
We all know what happened during the holocaust, so I don't have to go into detail on that, but I will tell you that being there at that camp, was one of the most haunting things I've ever experienced. It felt so real. I kept thinking... HOW could this have happened. The words in the picture below read "Arbeit Macht Frei" which means "Work will set you Free." The Jews were told this lie that if they worked, they would be set free...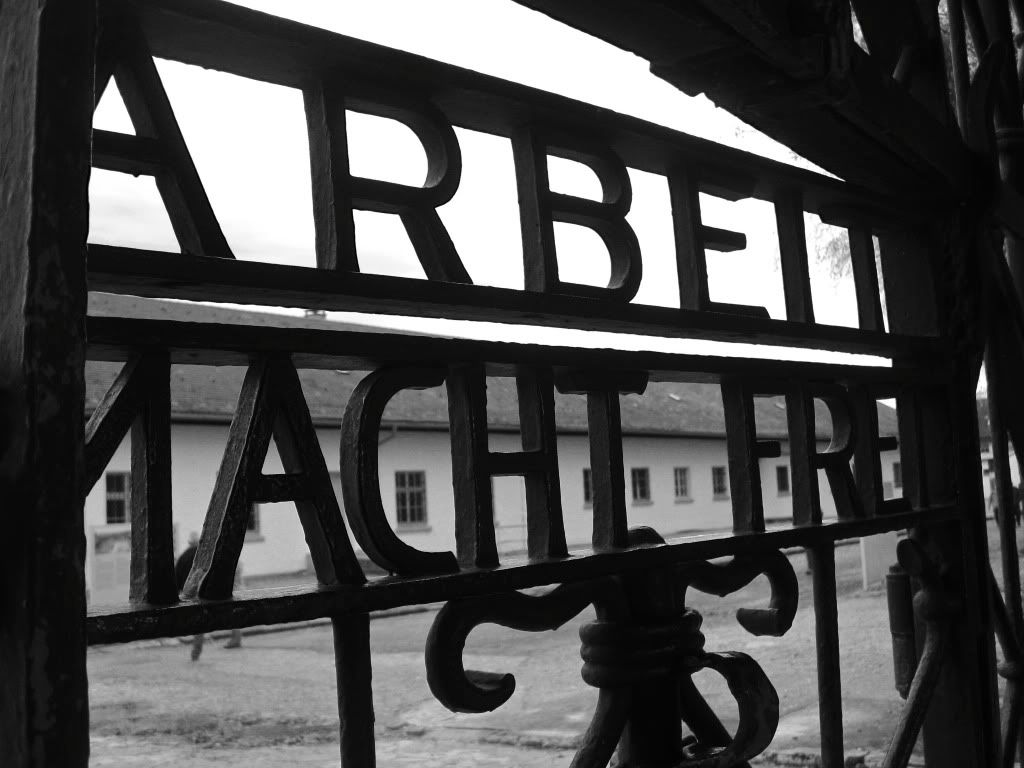 The audio guide led us through the camp. There were also interviews with survivors, government officials, and journalists. There was one British woman that stood out in my mind. She described the state of the camp when the Jews were liberated and she said that there was an indescribable stench of death. She went on to describe other horrifying things that brought me to tears.
You can see what Dachau originally looked like in the next picture. There were lines of barracks where the prisoners were packed like sardines, especially towards the end. You can read about the cruel medical experiments below.
They tortured some prisoners to test the effects of things like hypothermia and altitude pressure on the human body. You can also see how big the area is... but the Auschwitz concentration camp was over 20 times as large in size.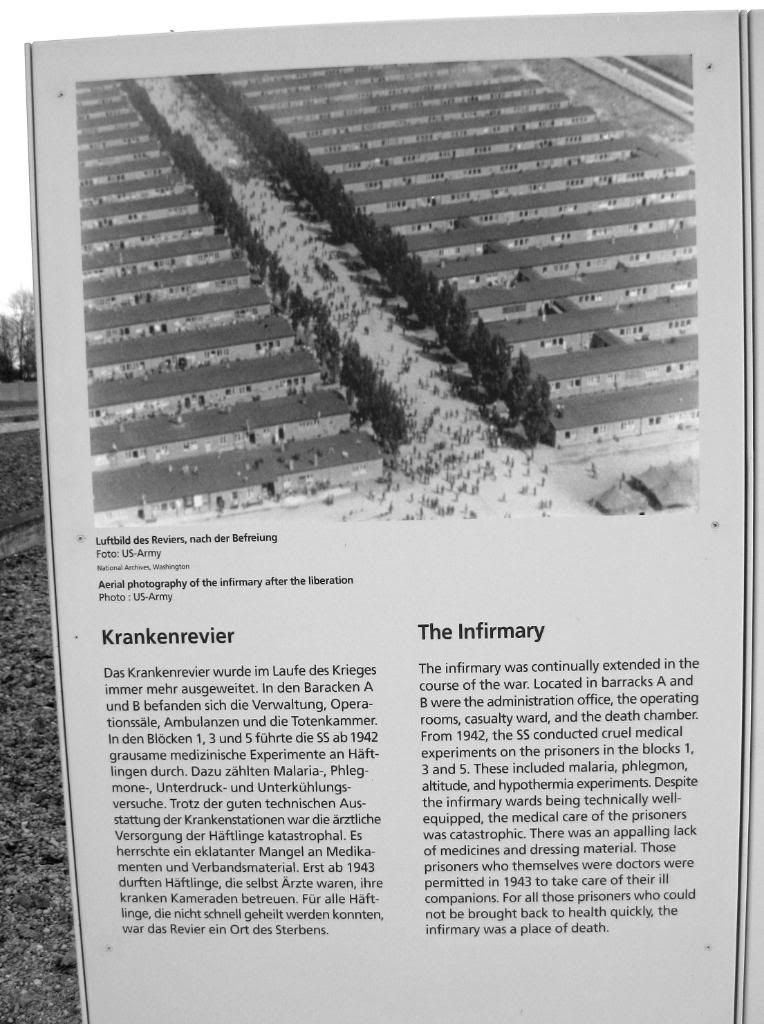 The barracks were burned and the camp is simply lined with the remaining cement foundations.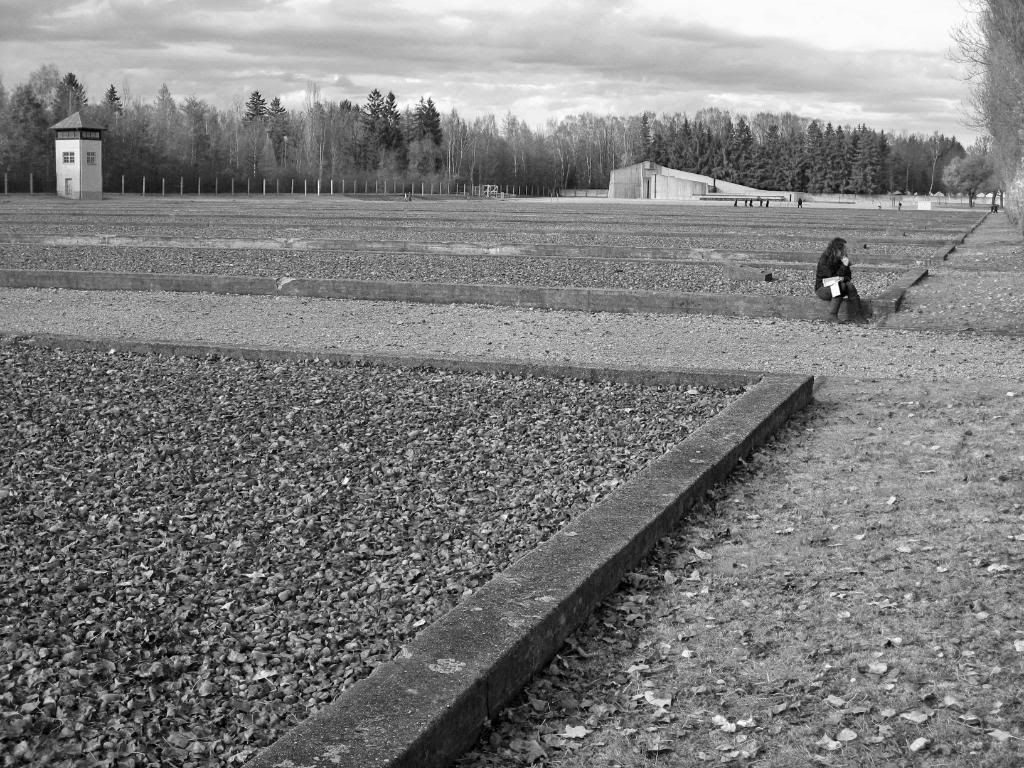 The Star of David
This is inside one of the barracks that they re-built to show what it looked like. I can only imagine someone looking out the window... hoping that they would one day escape.
Inside the museum...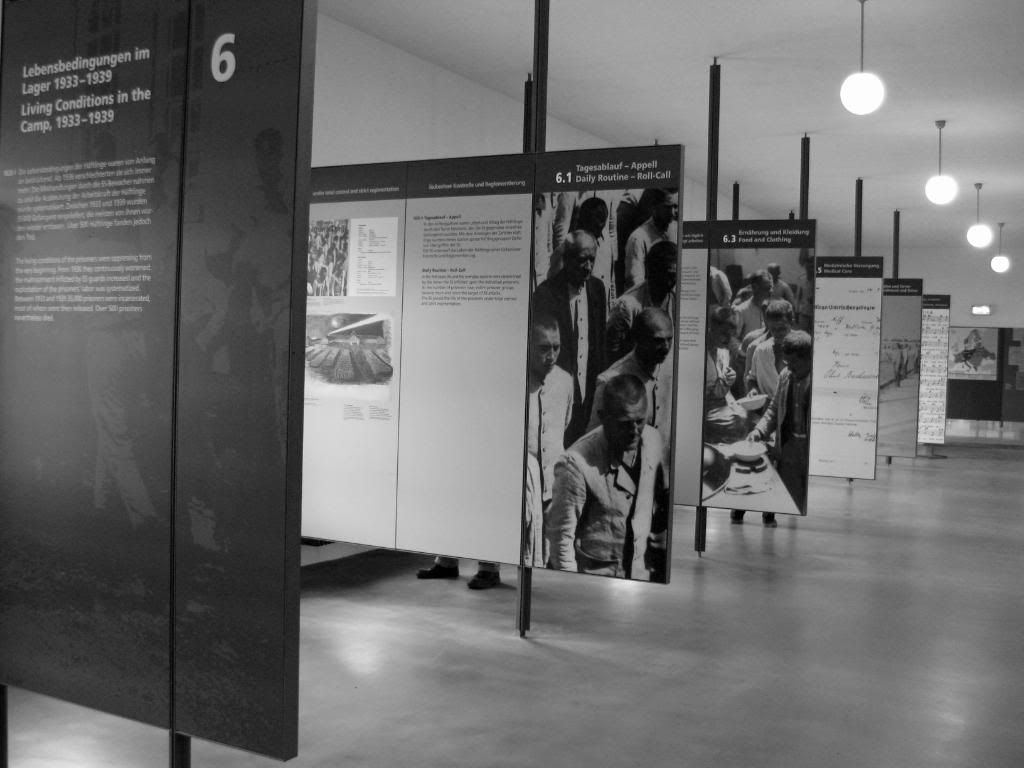 This next picture may be disturbing, but it made me realize how awful the conditions were for the prisoners. Many died from starvation over the last few years because they were not fed enough food.
The "Brausebad" literally means "Shower bath," but we know that these were the gas chambers. I had a weird feeling come over me as I stood in that place. To think of all the Jews (in all the camps) that went into a place like this thinking they were taking a shower, and it was actually their

death

. There was truly an indescribable, haunting feeling there.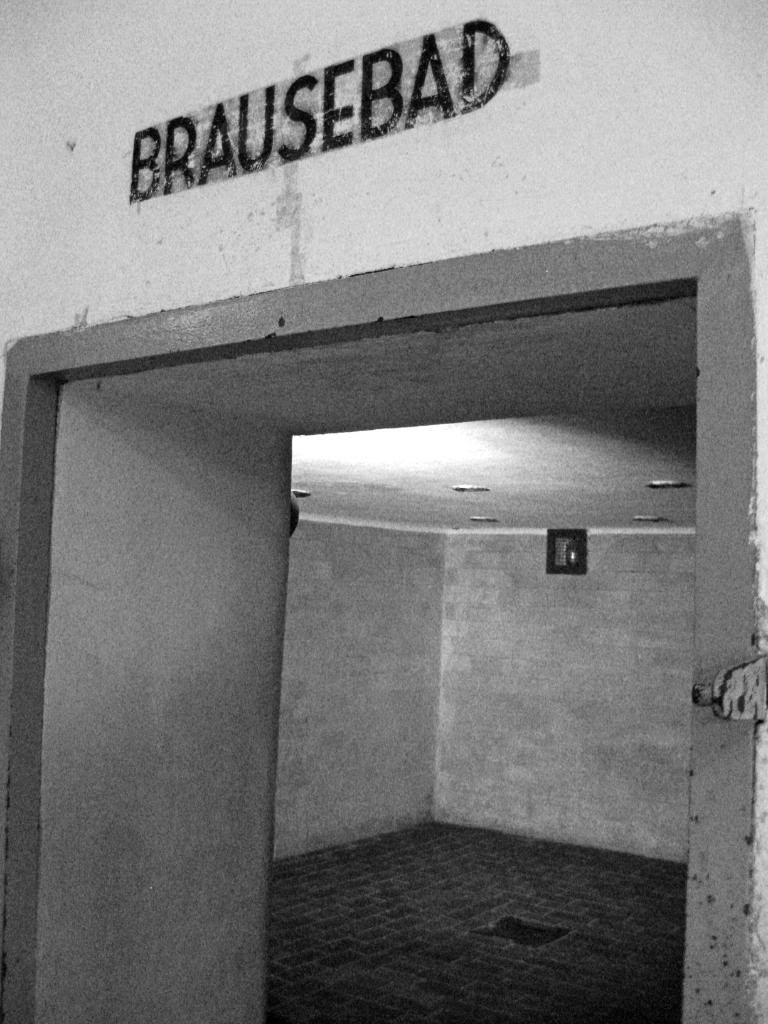 This is the barbed-wire fence that stood between the Jews and their freedom.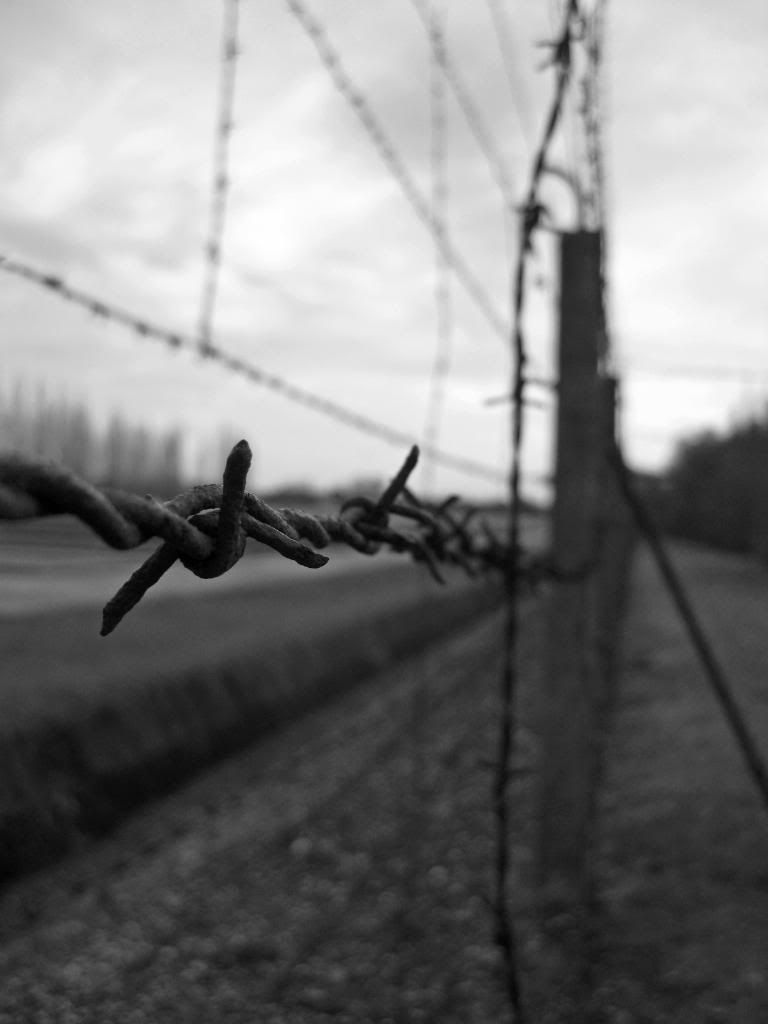 If it wasn't for Bobby wanting to go to the concentration camp, I don't think I would have ever gone and now, I am thankful that I went. For me, it just confirms Jeremiah 17:9 but thankfully, there is hope (Romans 3:23-24).
Spending time with Kari and Bobby was great. We love having people in our home, because we really get to know them better. We wanted to spend even more time with them by doing another mini trip... this time to Portugal... BUT our flight was canceled. The worst part is that I booked K & B on a different flight because we thought ours was full, so they took off before us, and we never got to meet them there! Nate and I were so upset the whole weekend. :( We were so bummed, but from the looks of Kari's blog, they had a nice time... which made us feel a little better for sending them off!
If you would like to read about their trip from Kari's perspective... take a look on her blog:
http://runningyankee.blogspot.com/2009/12/spatzli-and-other-swiss-delights.html