We apologize for the long delay between posts! We've been traveling the past few weeks, so our time to blog has been limited. Before we begin a series of posts about our most recent travels, we wanted to share a post that has been a long time in the making.
I must confess that I enjoy food (Just so there's no confusion, this is Nate, not Maria!). I will try any food at least one time and there are no foods that I really despise. My grandmother Diering is to blame for this behavior. From an early age, my grandmother made me try escargot and other exotic delicacies. At the beginning of my relationship with Maria, I often joked that, "You can't spell Diering without F-O-O-D." At first, she didn't understand what I meant, since she comes from the pizza/hot dog/chicken tenders school of thought. However, after sharing enough meals with me, she now understands what I meant. Needless to say, I'm no longer allowed to use this expression, except on very, very special occasions. So, with that being said, I very proudly present the food blog...
Sure, European portions may be smaller and European drinks may be warmer, but the food in Europe is pretty similar to the food in America. Of course, it's a totally surreal experience when you're enjoying a pizza in the shadows of the Colosseum or a creme brulee in sight of the Eiffel tower.
We took our first major European trip to Italy. In Rome, we enjoyed a plate of antipasta...
truffle gnocchi...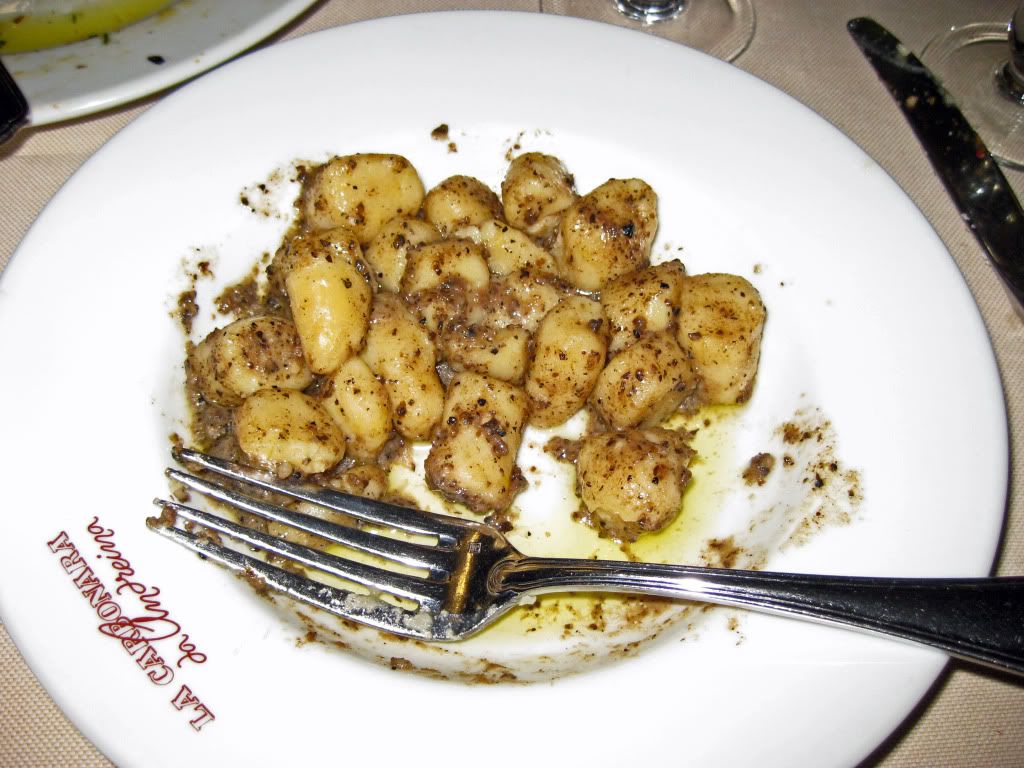 and linguini with lobster and red sauce.
In Venice, we tried pasta tossed with olive oil, red peppers, asparagus and fresh fish.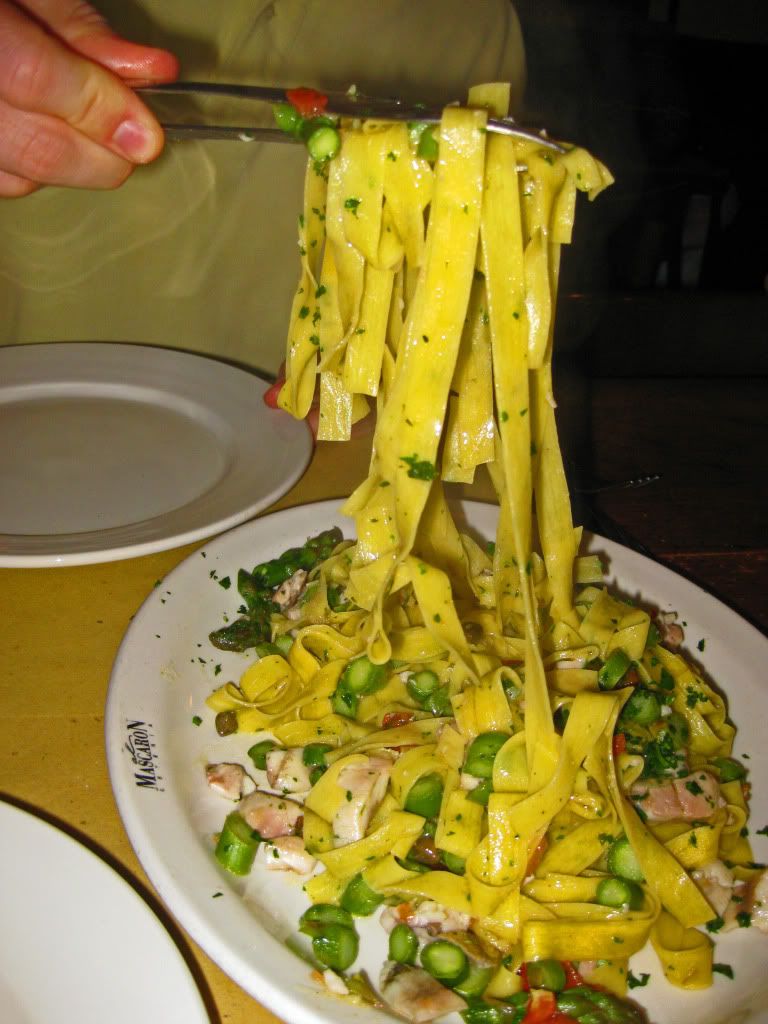 Pesto originated in the region of the Cinque Terre. So while visiting Vernazza, we felt obliged to try the ravioli with pesto. We also sampled some of the freshly-caught local seafood, including calamari. Maria did not think it looked to appetizing, so she asked for some marinara sauce, which was actually a wise request!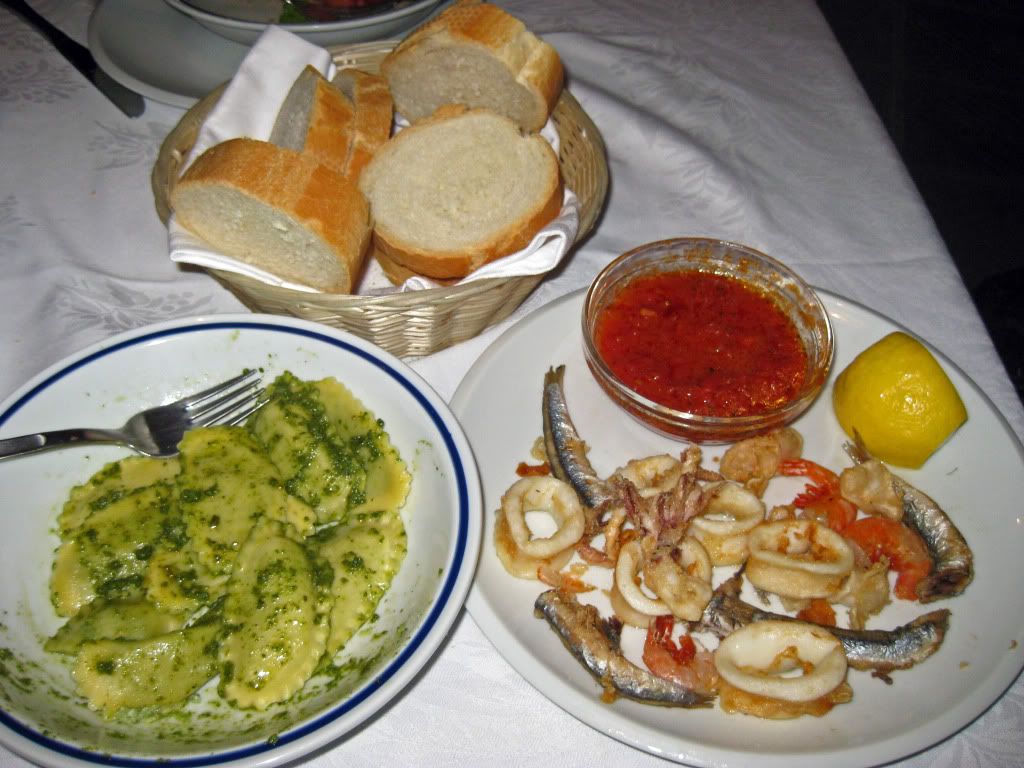 My favorite Italian meal was probably the least impressive meal by appearance. Based on our guidebook's recommendation, we found a hole-in-the-wall place with a plate-of-the-day that was local sweet onions served over grilled steak, accompanied by Italian-style mashed potatoes. The steak was seasoned to perfection and was so tender that it practically melted in my mouth. The onions were a spectacular complement to the steak, because they were light and sweet. A very simple, but very delicious meal.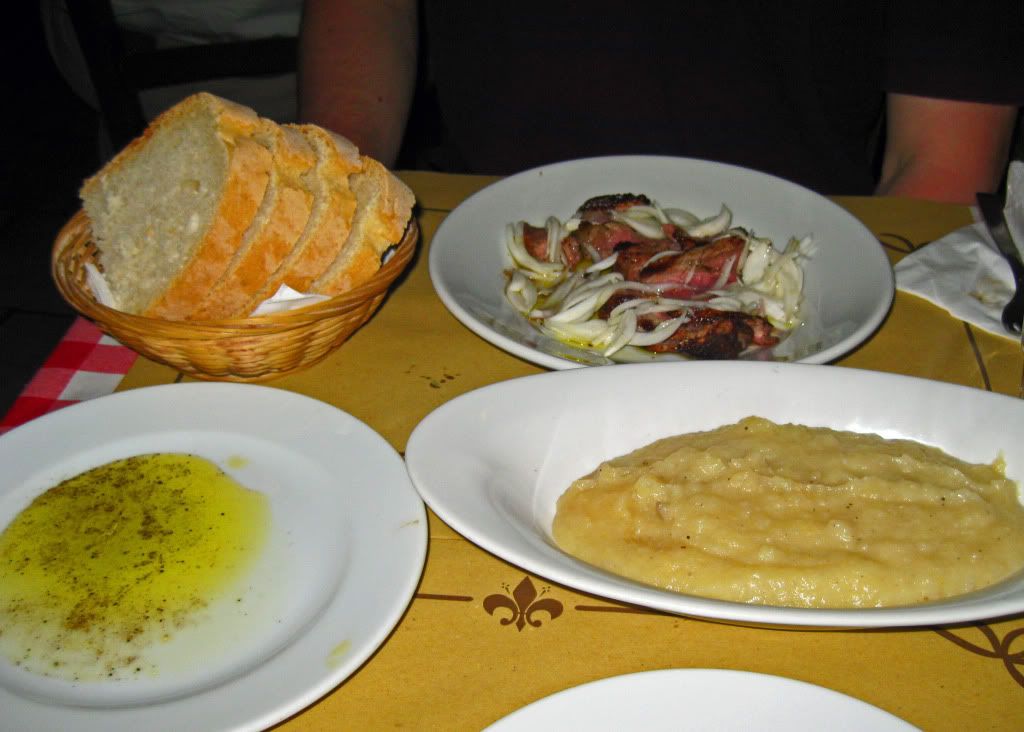 Of course, we would be remiss not to mention the world-famous Italian gelato. As you can see from our smiles, we are huge fans of gelato! I enjoy fruity flavors, while Maria enjoys creamy/chocolatey flavors.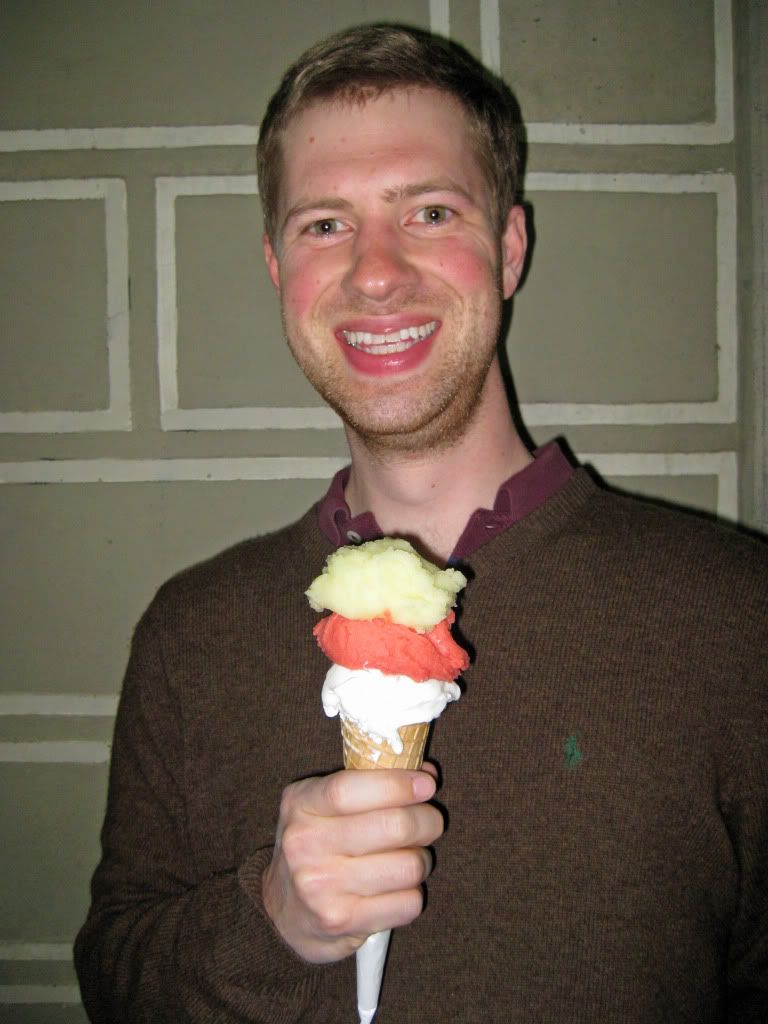 Ironically, our favorite pizza was not served in Italy, but in Spain.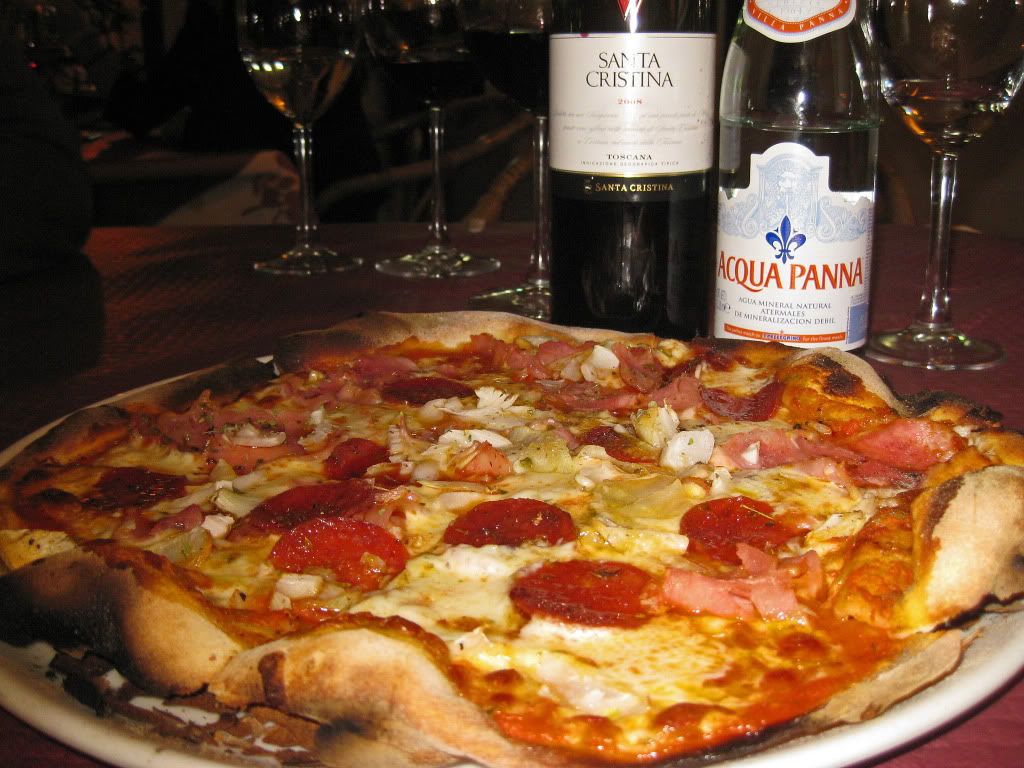 Prior to moving to Europe, I rarely drank wine. However, in Europe the wine is inexpensive and really good. In my opinion, nothing beats an Italian red wine. However, for white wine, I'd prefer a glass of French wine.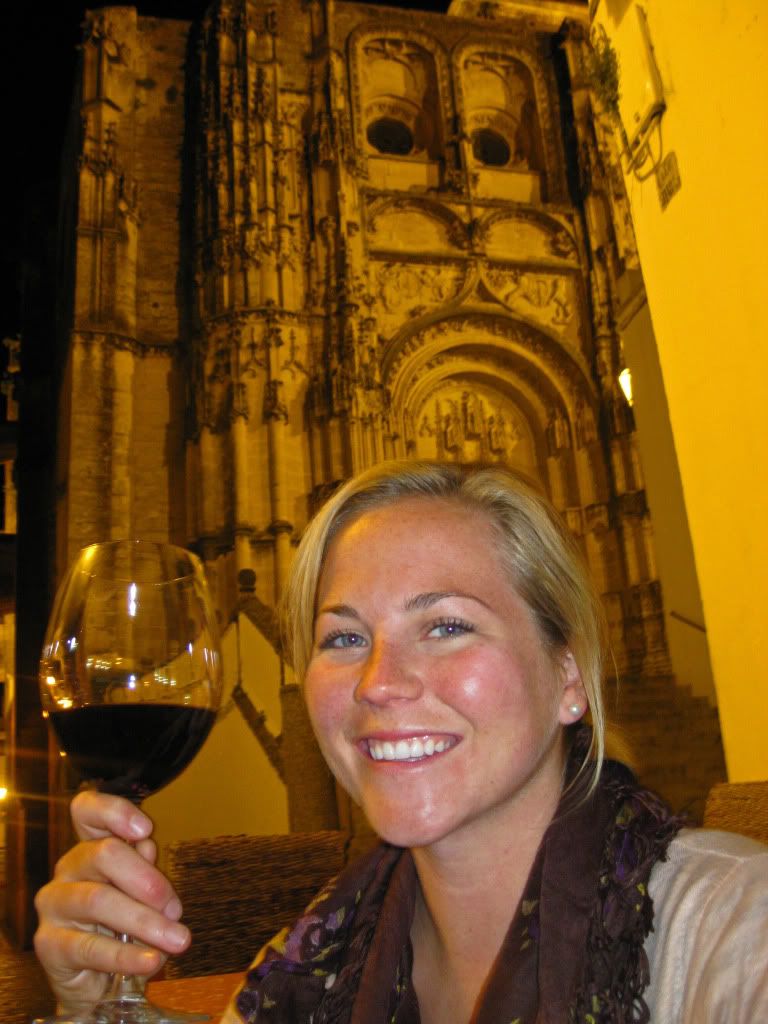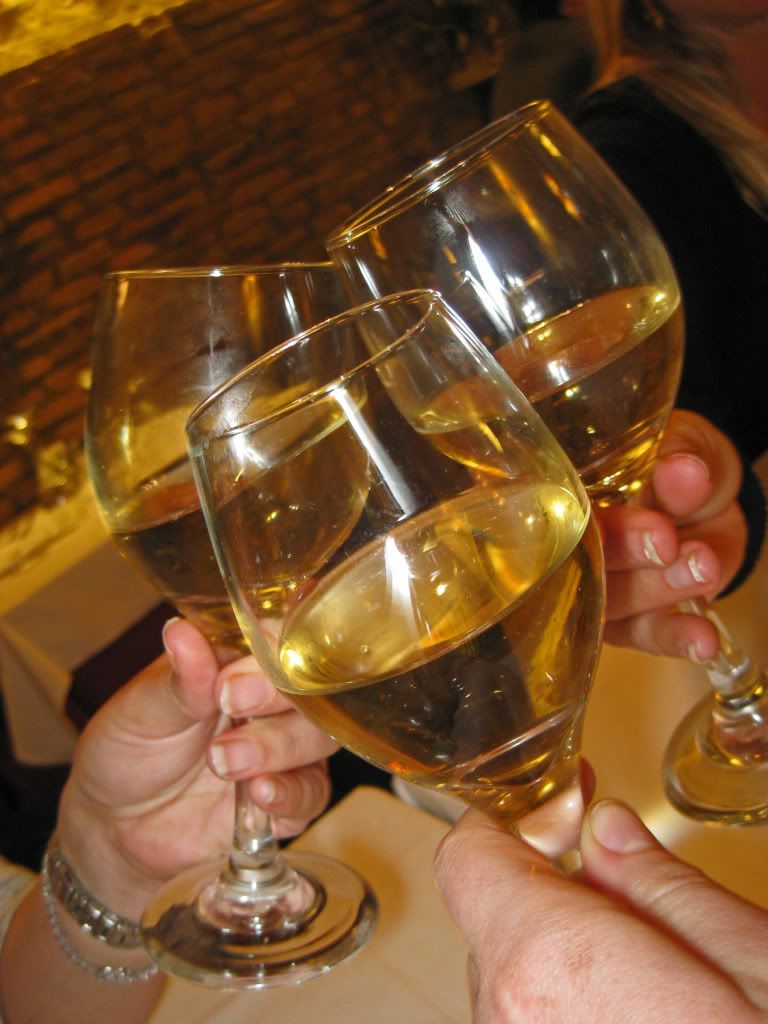 In Germany, their preferred drink is beer. Maria took this picture at the famous Hofbräuhaus in Munich, where those enormous mugs are the only available size.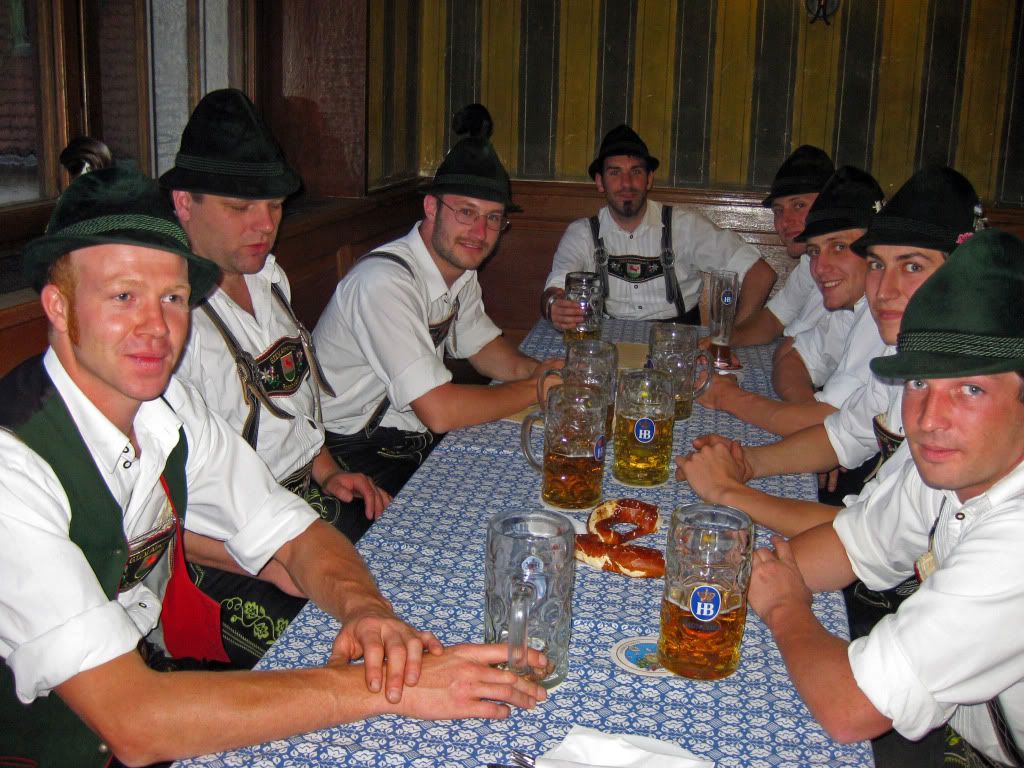 We weren't very good about taking pictures of our meals in the Czech Republic, probably because the food was so tasty, but we did manage to snap a shot of this plate. Good thing I ordered this dish, because Maria probably wouldn't have touched the fish.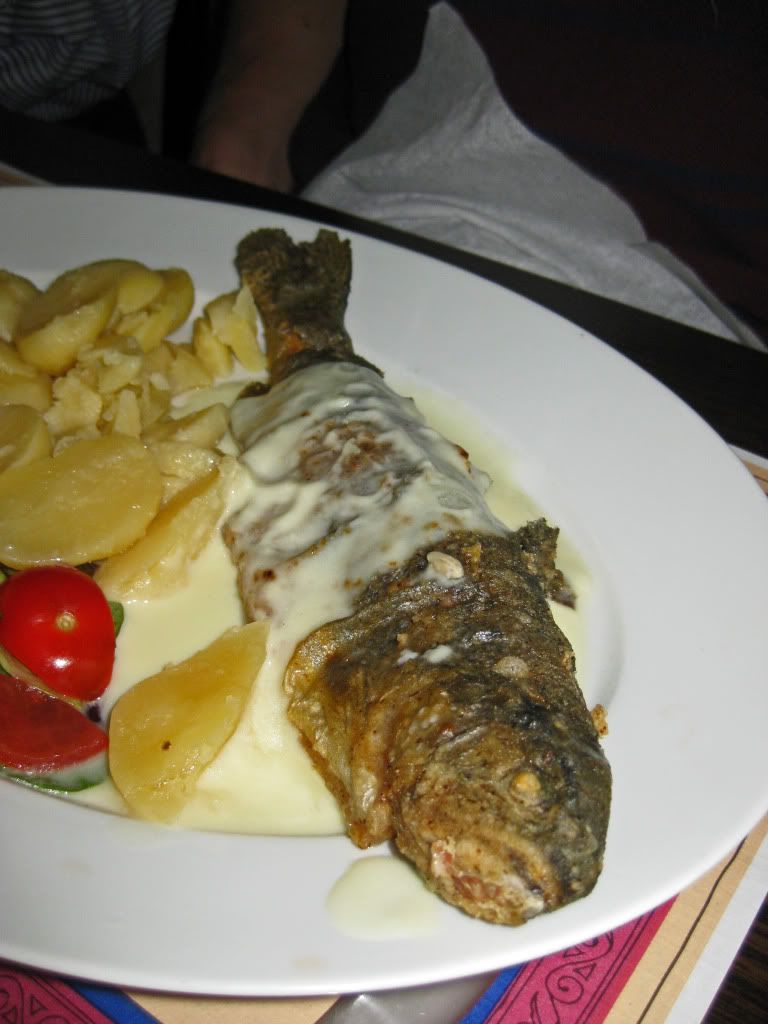 We were also not very good about taking pictures of our food in Egypt, but to be honest, the local cuisine was not a highlight of this trip. Especially, when you consider that each member of our traveling party endured an upset stomach at some point during the trip. Sometimes, you just need to go to a familiar place, so while in Cairo, we visited McDonald's. However, it was an adventure just to place our order. Take a look at the menu for yourself: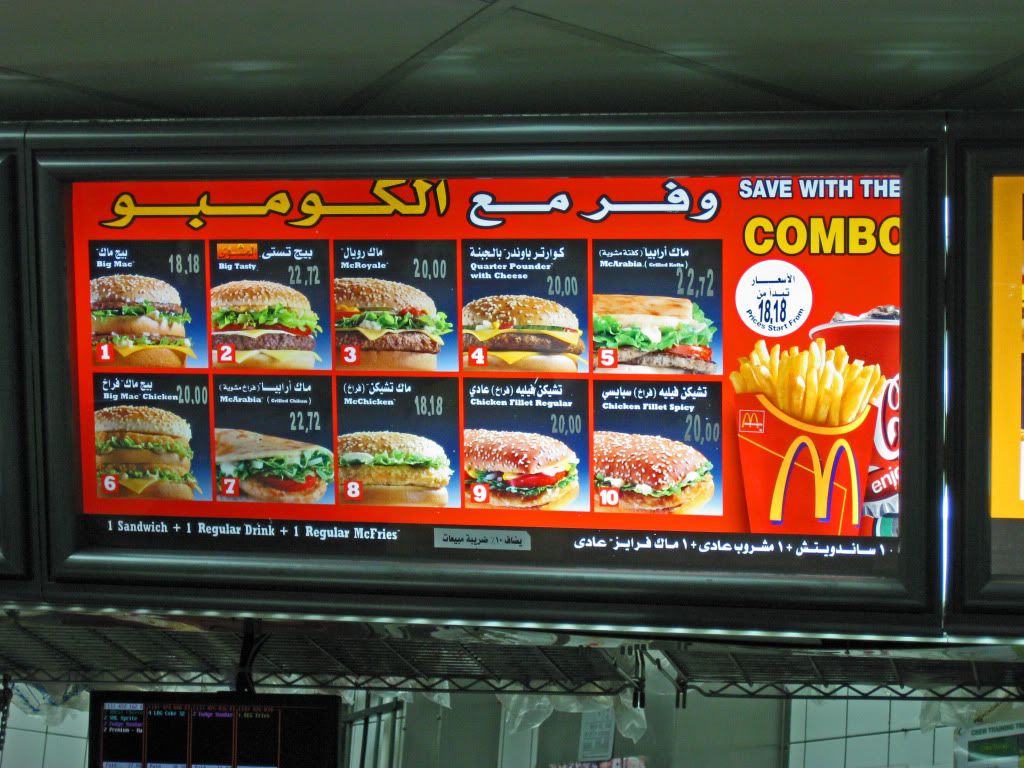 In the Northern France region, on of the specialties is tarte flambe. Maria and I call it a "french pizza." It's paper thin, with a delicious cream sauce, ham, onions and cheese. It's definitely one of our favorites meals!
How can you go to France and not eat a crepe?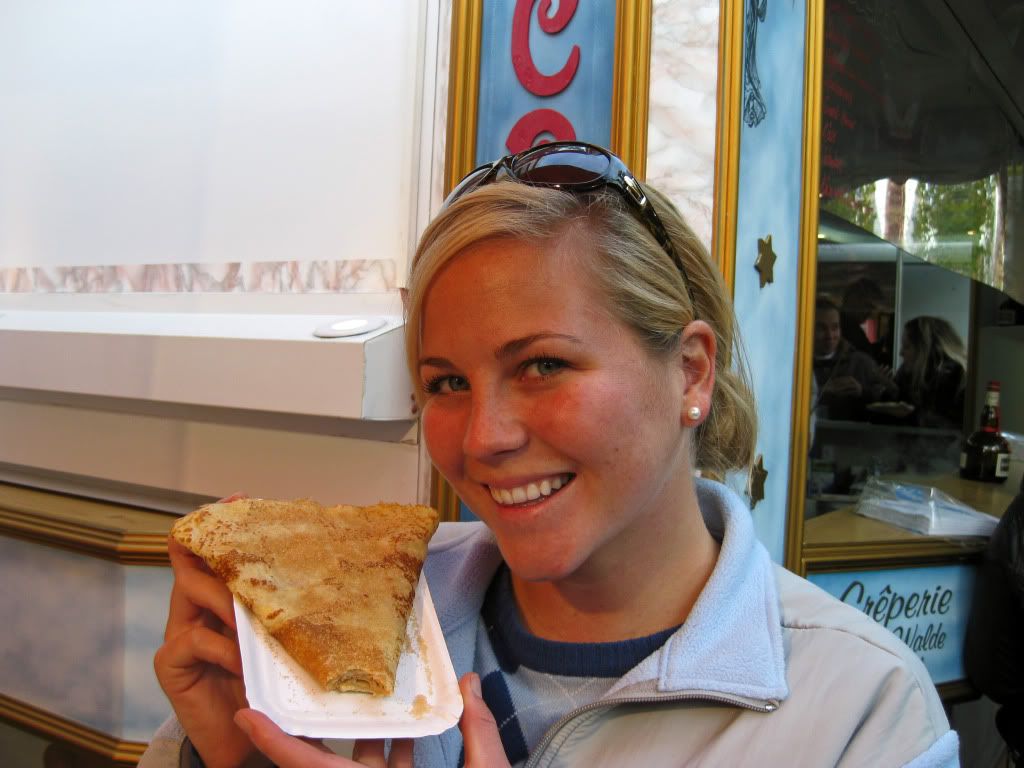 Don't forget about the famous French cheese!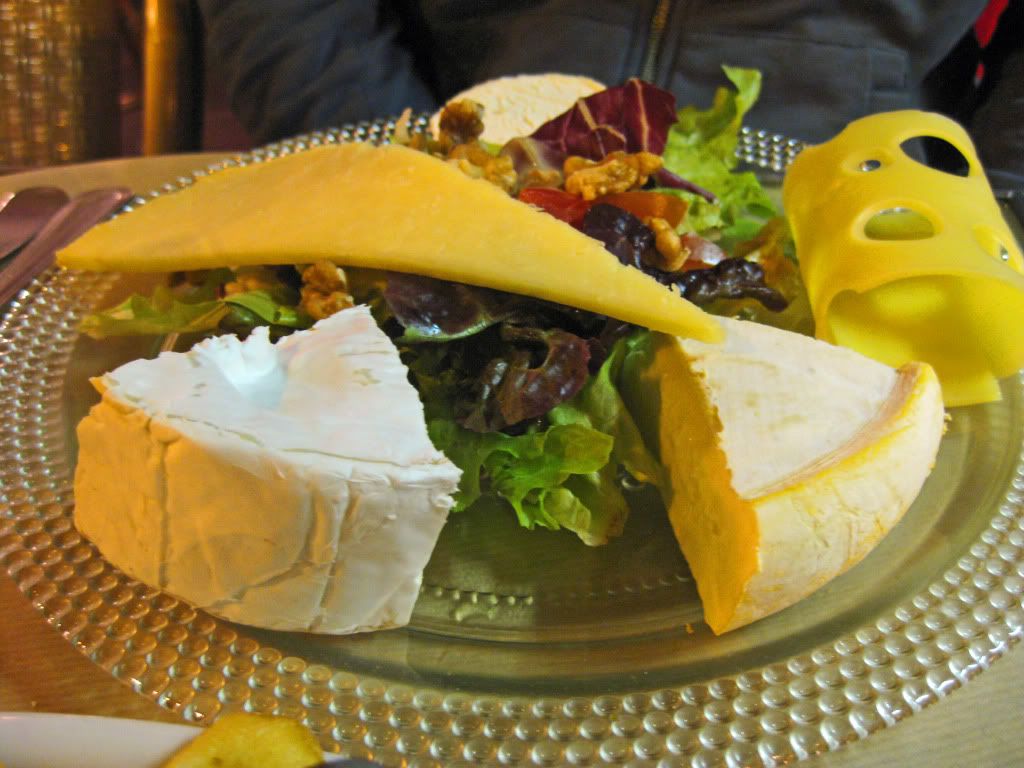 Eating creme brulee in Paris = hard to beat.
There's a great restaurant on the beach in Monaco that Maria's cousins always take us to eat when we visit. This fresh pizza is a delicious treat in the summer.
This next picture is one of the only ones we've taken of Swiss food during our time in Switzerland. We don't eat out often because it is so expensive. This picture was taken during a visit to the Alps with our friends, Teran & JJ. The dish on the right is called rosti, which is basically glorified hash-browns. In this case, the rosti is covered with lots of melted Swiss cheese and a fried egg. It pairs wonderfully with a long day of skiing in the cold.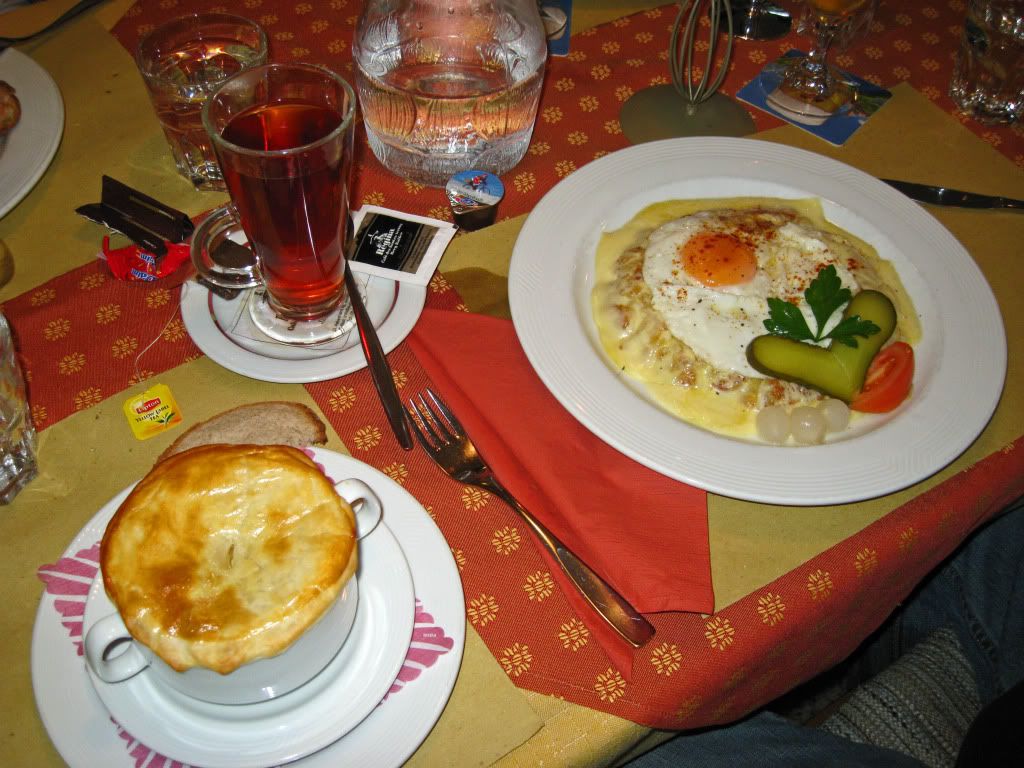 Of course, the German-speaking countries love their sausages and sauerkraut. We tried this sausage sampler in Salzburg.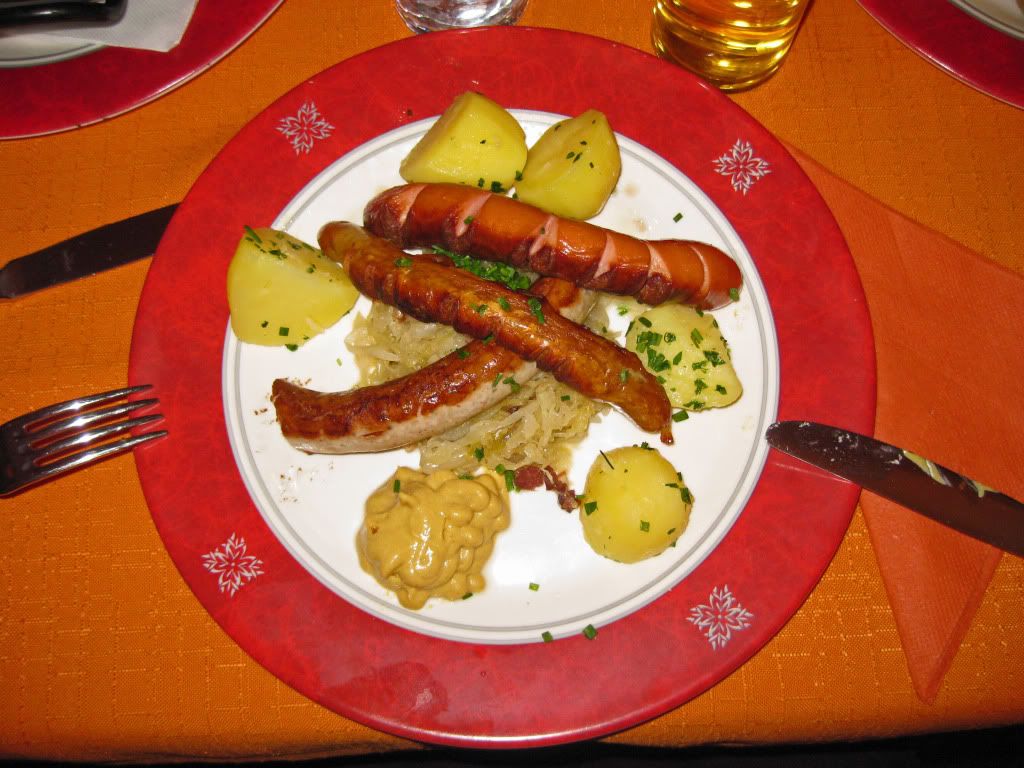 Maria was pleasantly surprised by the food in Turkey. It was fresh, different, tasty, and cheap. All of the food in the feast below was around $10!
Pide... like a cheesy calzone. How can you go wrong with that?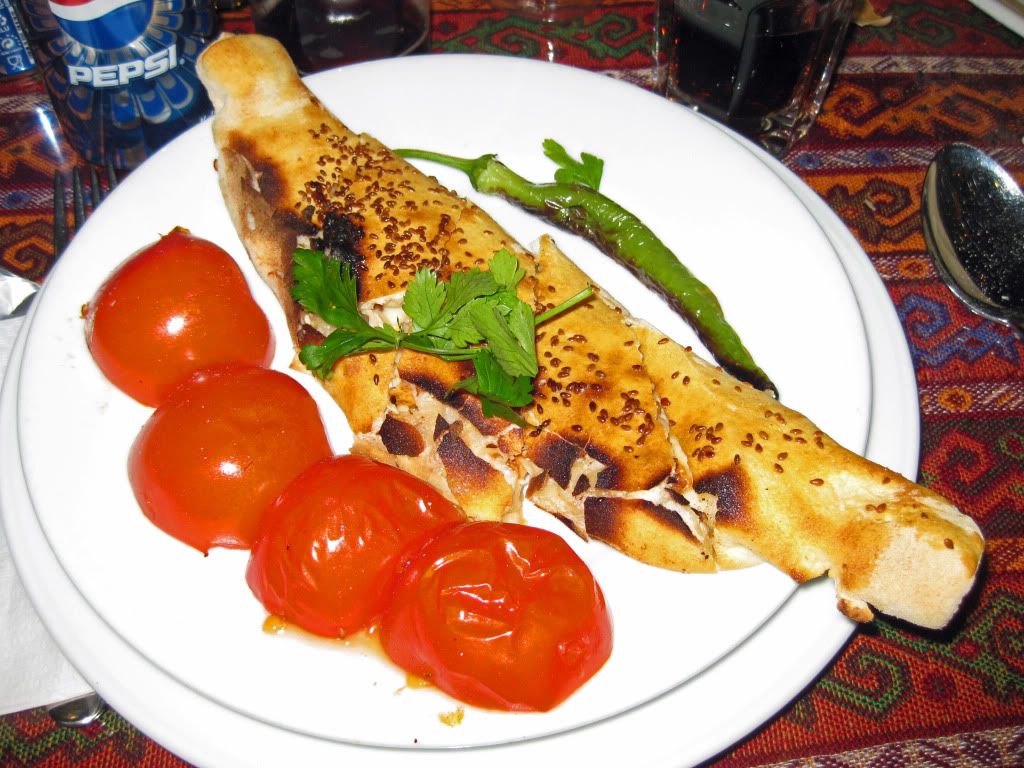 The Turkish are very good at grilling kebab-type meats.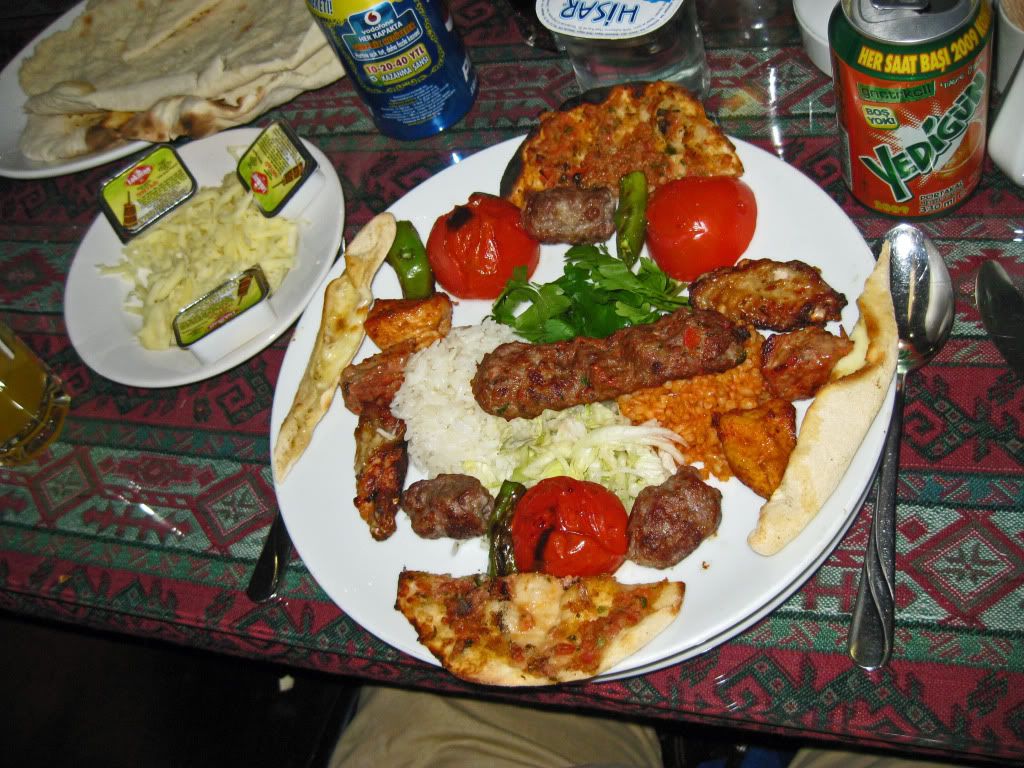 In Azerbaijan, the food was very similar to Turkish food, probably because these countries share a border. This is a big skillet with grilled veggies and meats. The tortillas are there if you want to make a 'fajita'.
Sometimes, you just crave a little taste of home. While walking down the street in Amsterdam, we stumbled upon this American shop!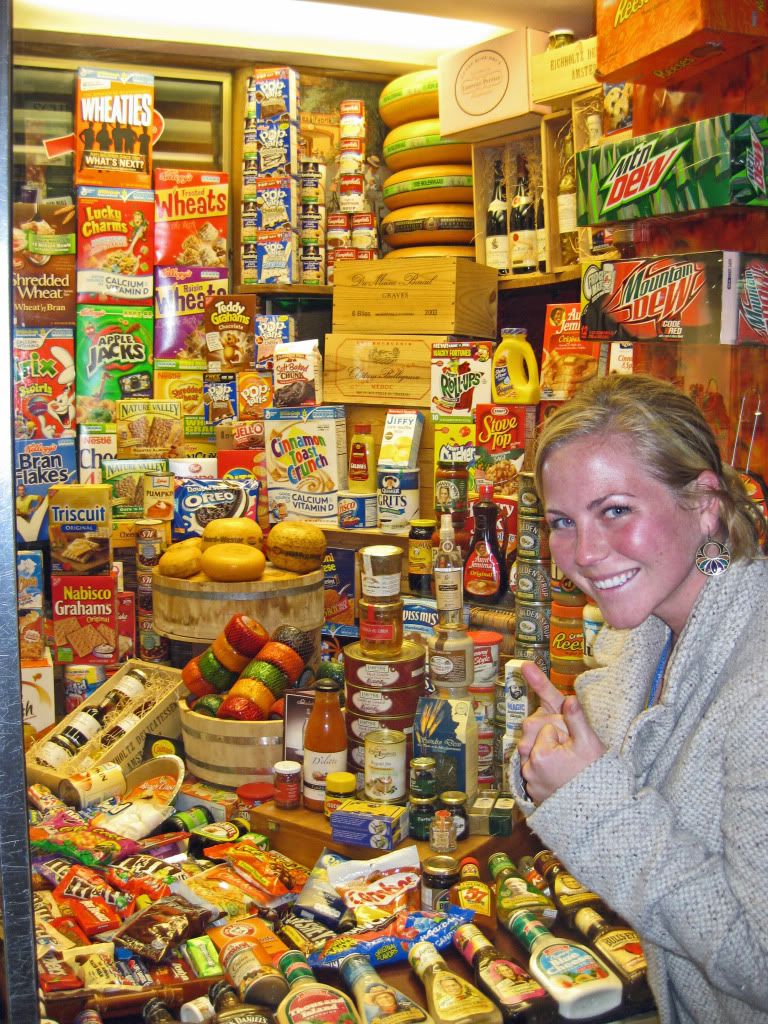 Another great way to satisfy your American food cravings is Hard Rock Cafe. So, even though it's touristy, Maria and I often find ourselves dining at a Hard Rock. Fortunately, for us, they're all over Europe! This particular picture was taken in Dublin.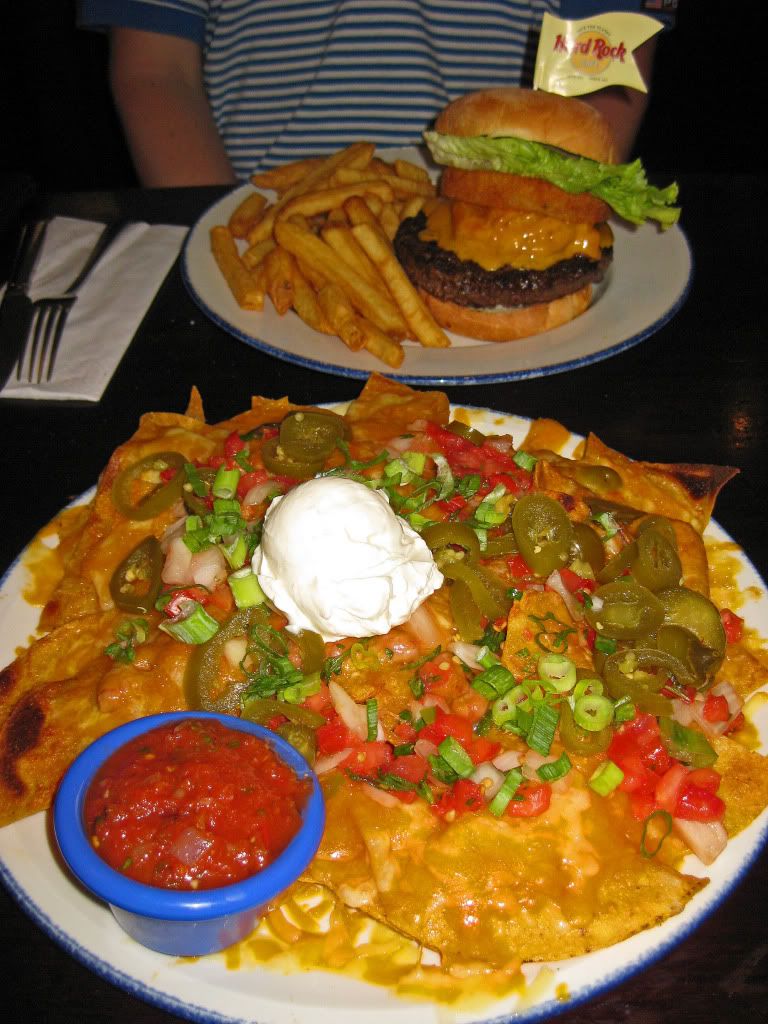 Speaking of Ireland...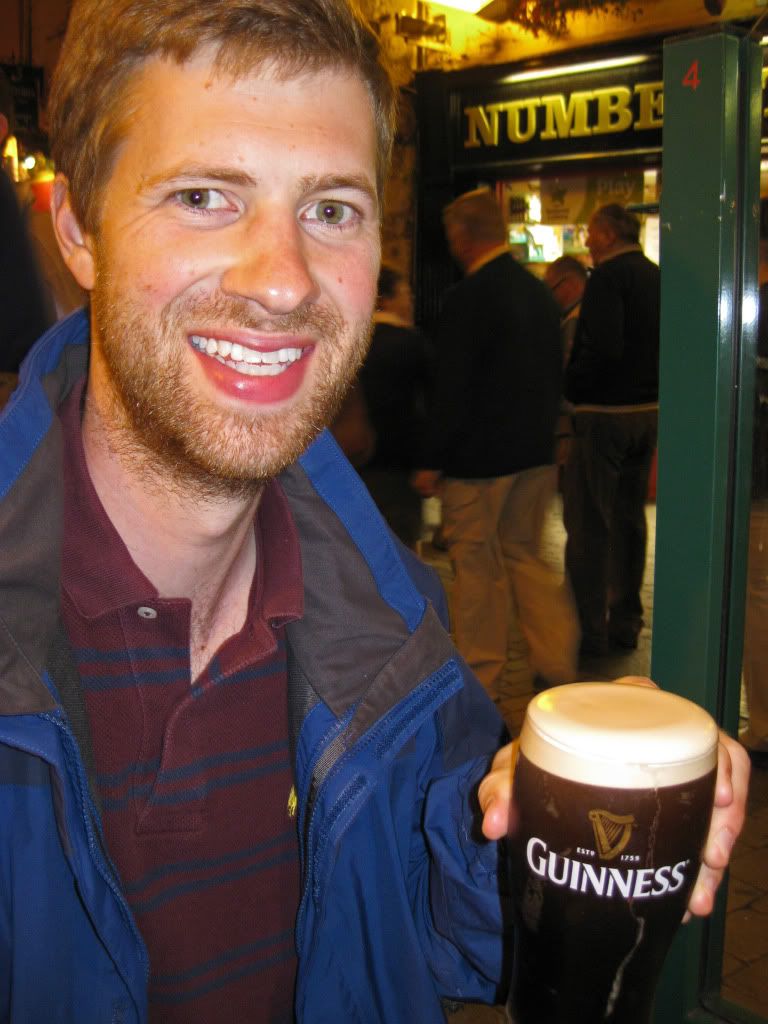 In my mind, I did not expect the British dining experience to be all that great. Fortunately, my expectations were flat-out wrong. In Scotland, we ate lots of amazing seafood. On the Isle of Skye, we saw a bag of mussels walked through the front door not 2 minutes before we placed our order!
Some more Scottish seafood....fish pie and a crab-meat salad.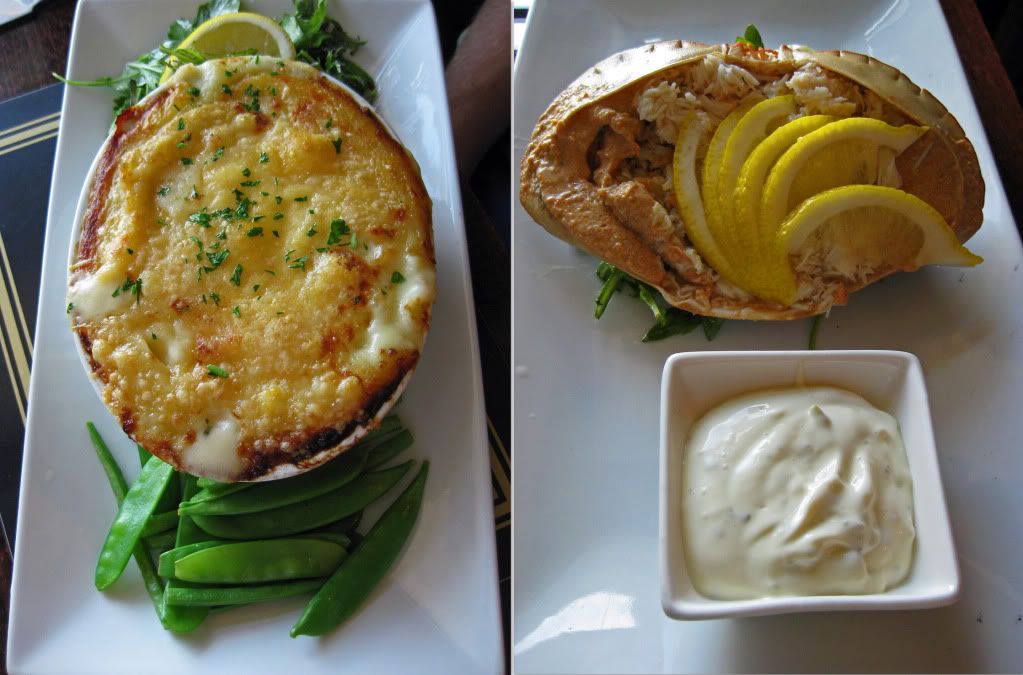 The classic interpretation of seafood in England, Fish and Chips.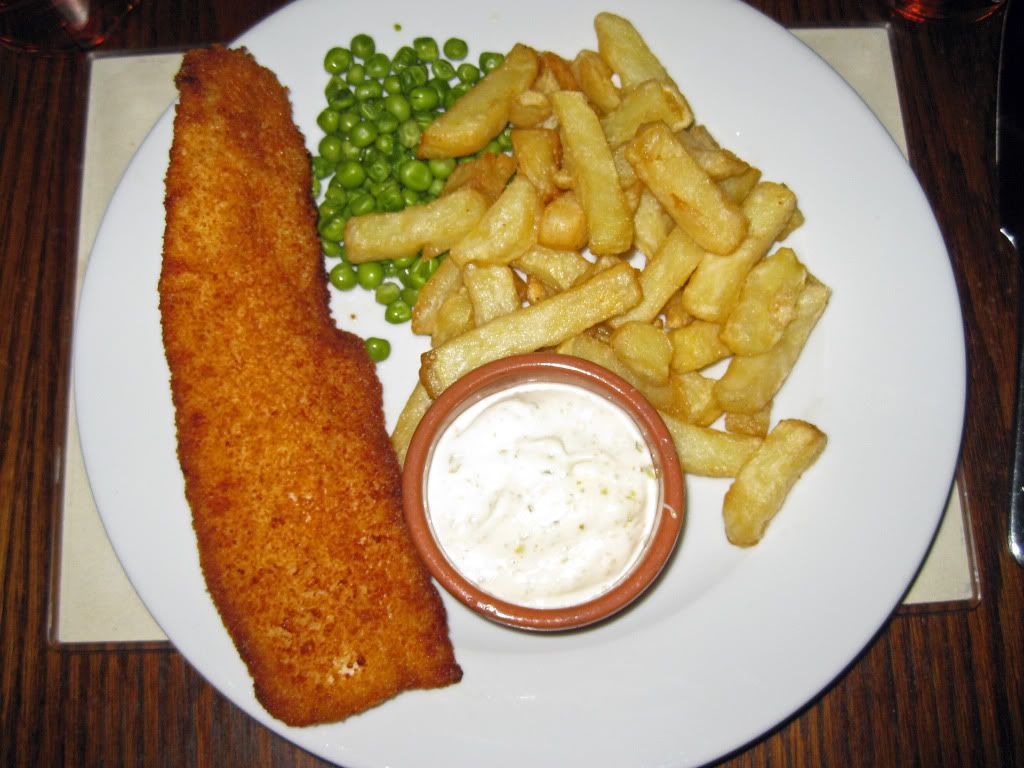 Sticky toffee pudding, a classic English desert. Although I'm not really sure why they call it a pudding, because it's definitely just a cake.
However, I think Maria would prefer ice cream over sticky toffee pudding any day of the week. What do you think?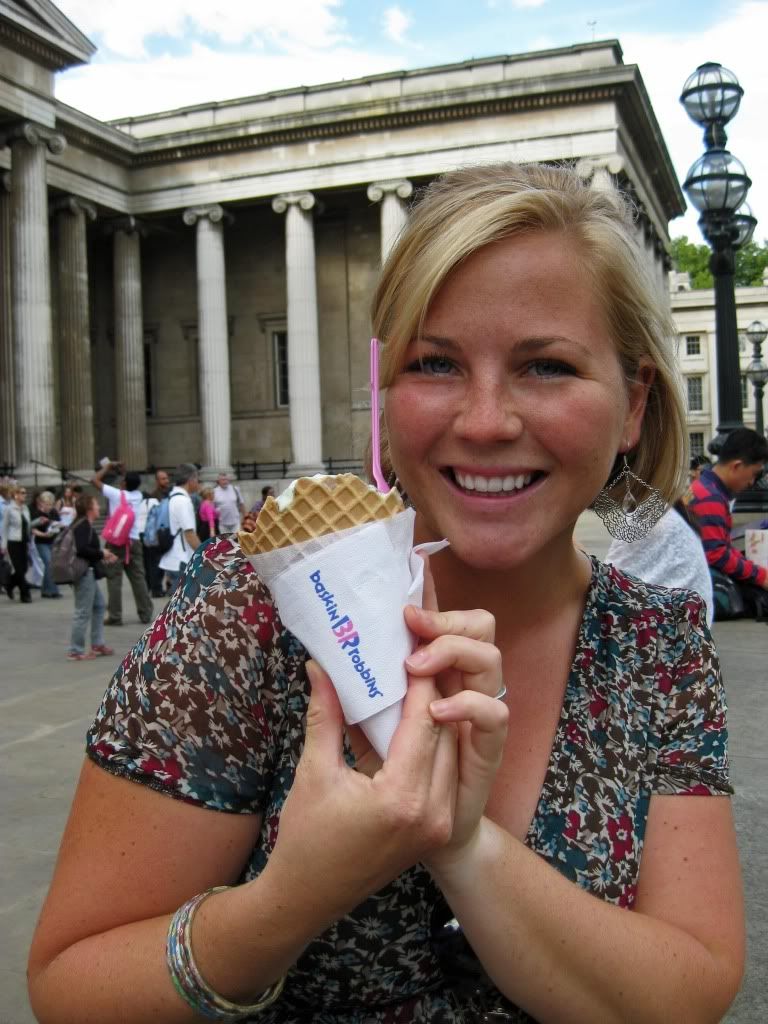 Desert before dinner?
The English breakfast is always a good way to start your day.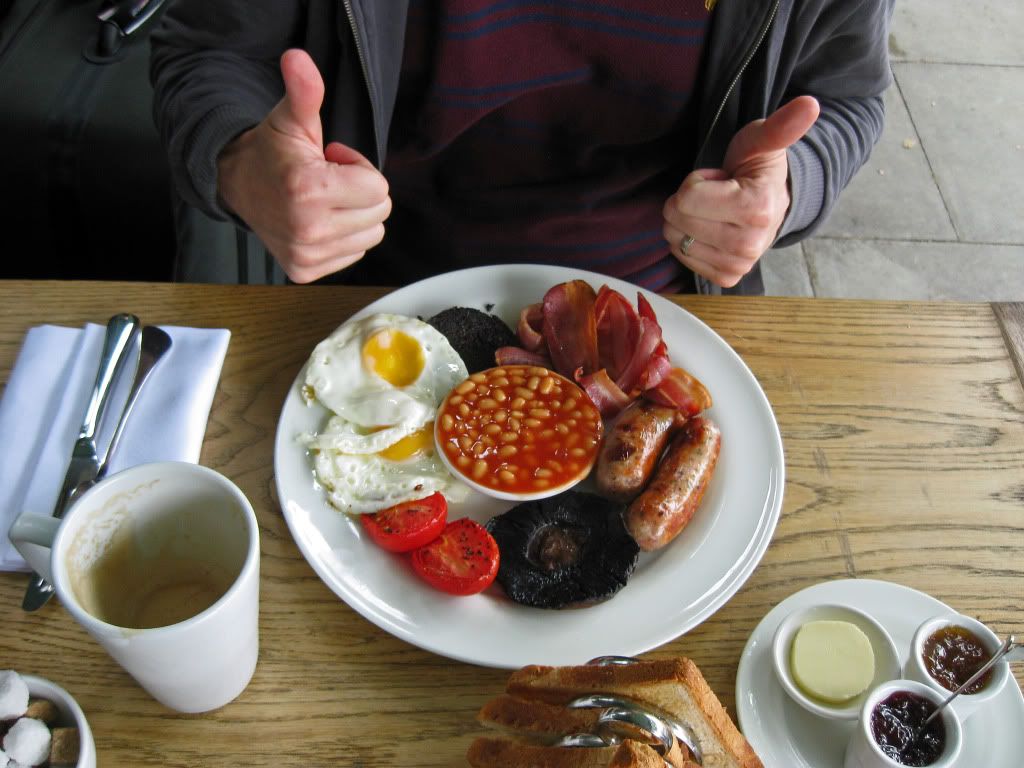 The British food was a pleasant surprise, but I think our experience would have been a lot different if we were hippies.
Who doesn't love a latte and fresh-squeezed orange juice with their breakfast? Well, in Spain, it was the standard drink. It was cheap & delicious. Of course, if you add a cafe con leche, it's almost enough to make you forget about the English breakfast.
Almost, but not quite. Here's an example of the Spanish breakfast food.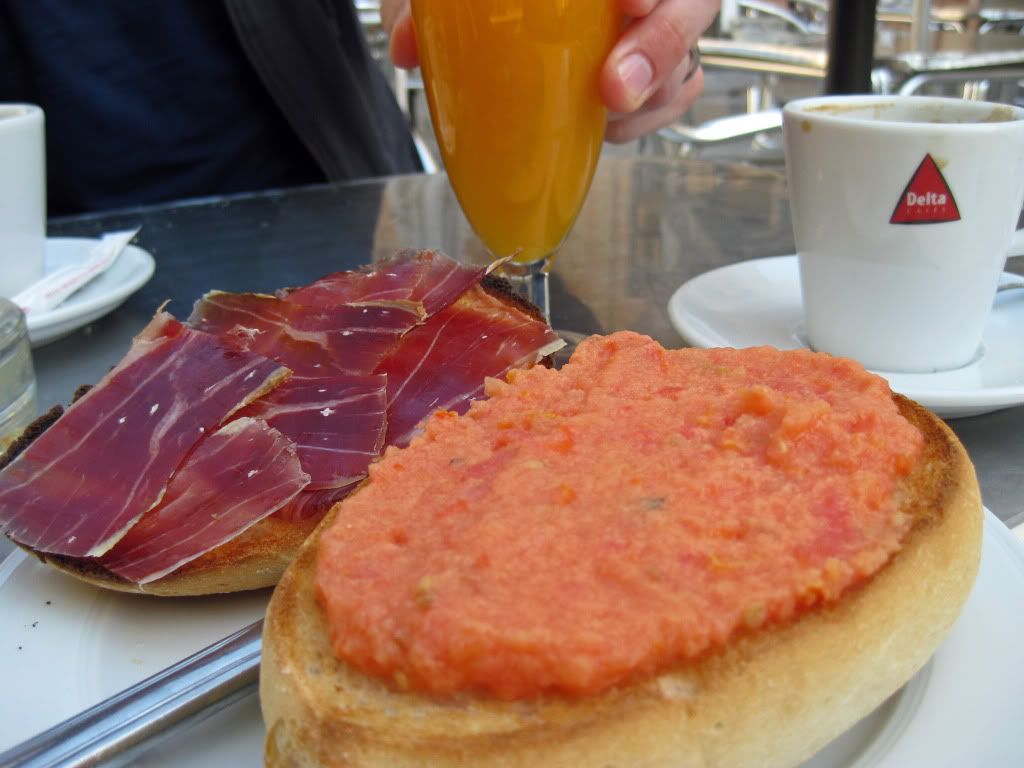 Spain is definitely more famous for its tapas and sangria than for its breakfast.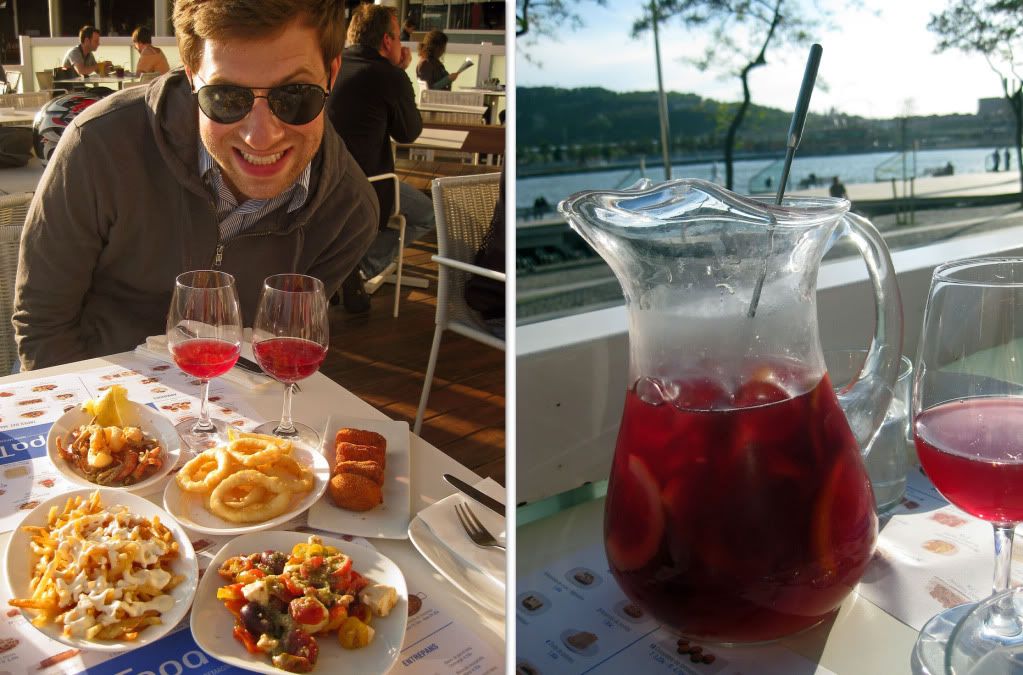 We had one of our favorite tapas/sangria experiences sitting beside the Barcelona harbor.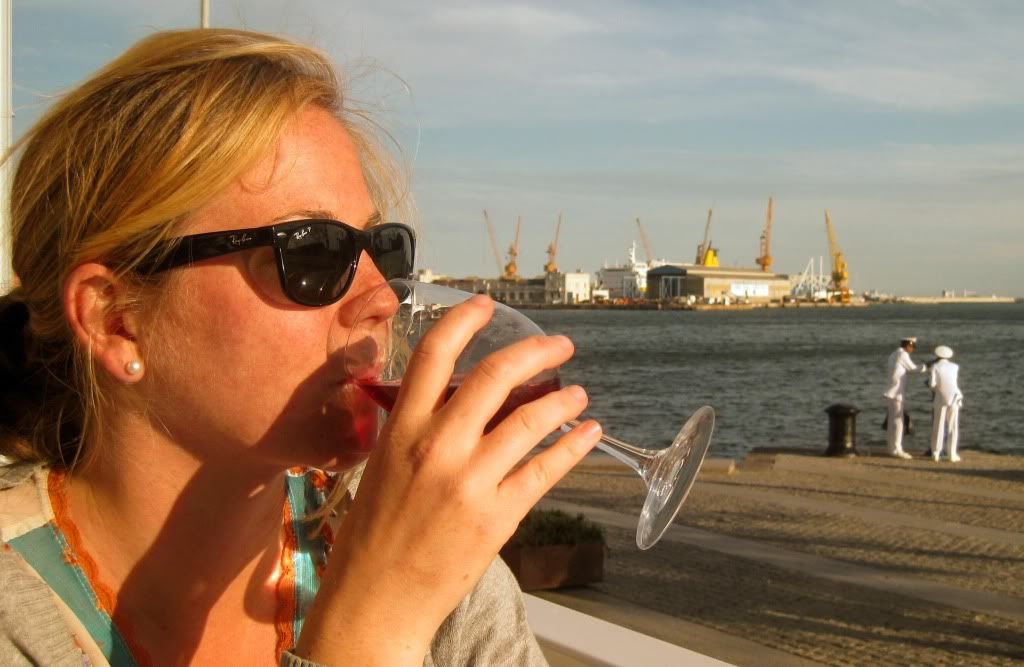 However, our most memorable tapas experience was at this next place. Once again, we found it on a Barcelona side street based on our guidebook's recommendation. After we walked in, we realized that we were the only customers. Since it was known for its apple cider, we decided to order a bottle. After we poured ourselves a glass, the waiter tried to explain that we were pouring the cider inappropriately. He only spoke Spanish, so he had to show us the appropriate pour. As you can see below, Maria was a quick learner.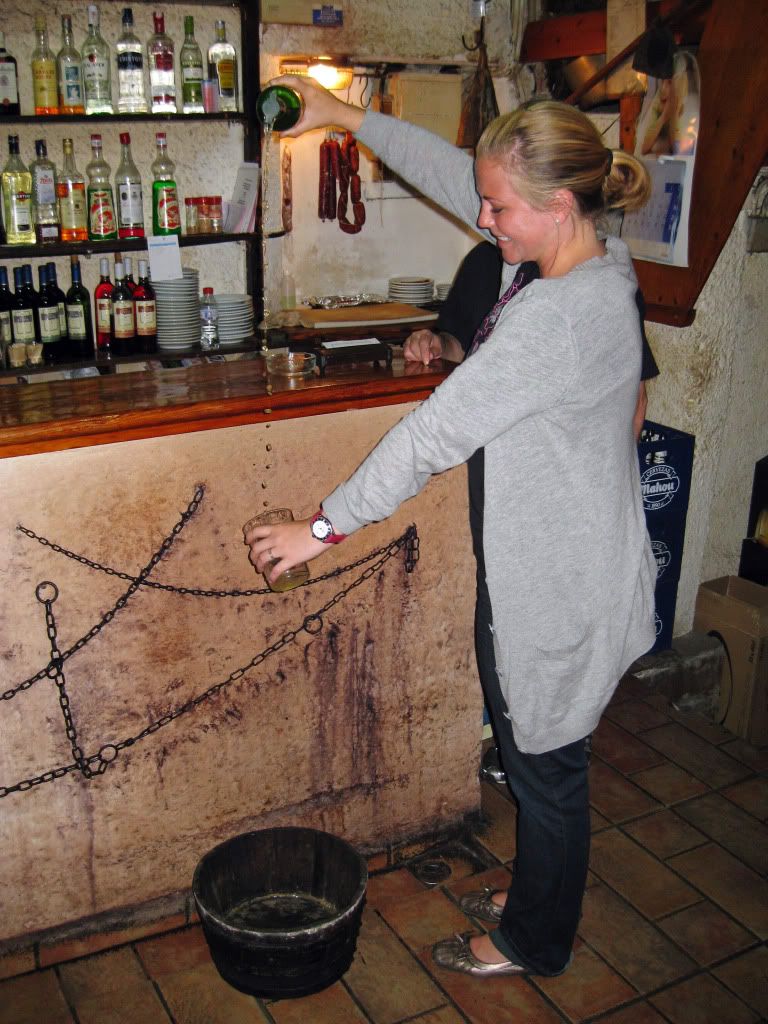 Because we bonded with the waiter over apple cider, he gave us a complimentary piece of cured ham, another Spanish specialty.
A local Spanish specialty in Toledo was marzapan, a delicious desert baked from almond paste. So good!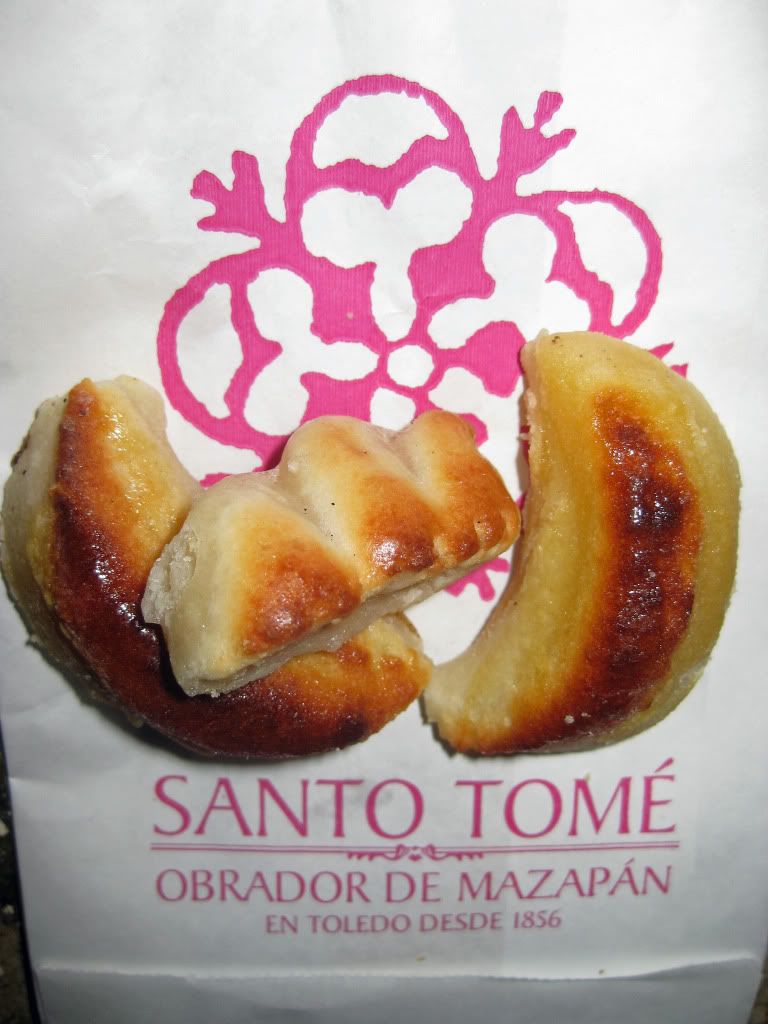 We ate the fanciest meal during our time in Europe at Carmen de Mirador in Granada Spain. The restaurant is perched on the hillside of the old Moorish town and looks across at the might Alhambra. As part of our fixed menu, we sampled many delicious dishes, but this was our favorite one....grilled pork served with fresh cut french fries smothered with a lightly fried egg. Different, but delicious.
Of course, we would be remiss not to mention Spanish olives. Absolutely amazing. Maria and I didn't like olives until we came to Europe, but you can't find olives like this in the States.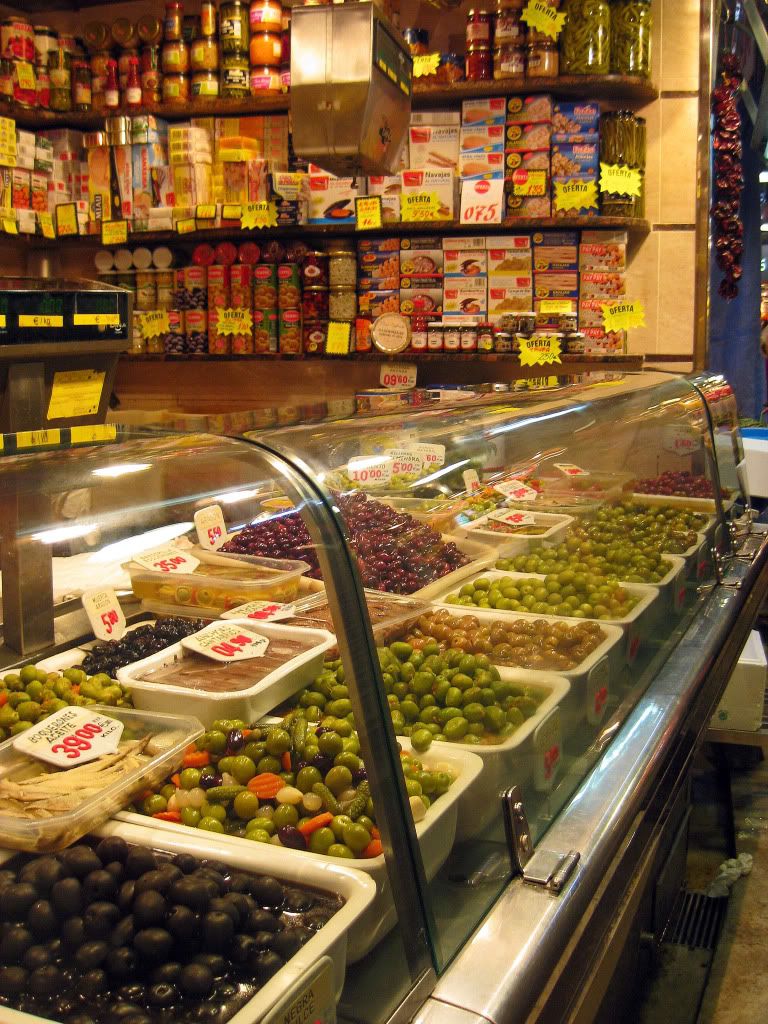 In addition to olives, the markets also sell all sorts of interesting goodies.
In St. Petersburg, they sell honey straight from the honeycomb in the markets.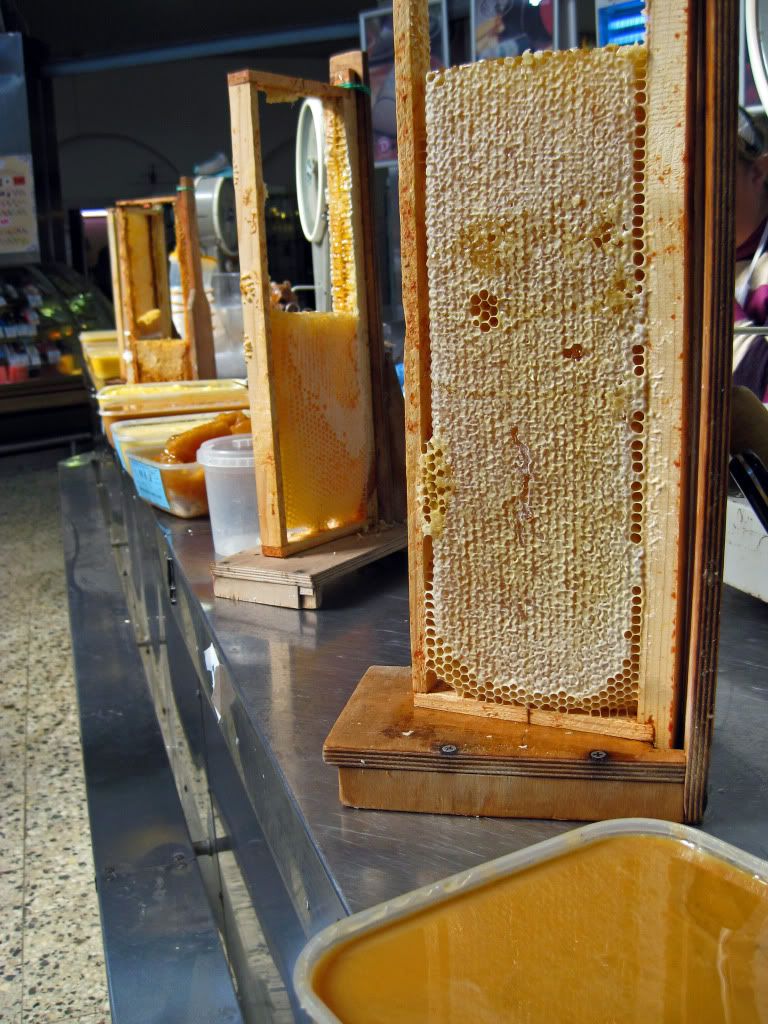 So sweet!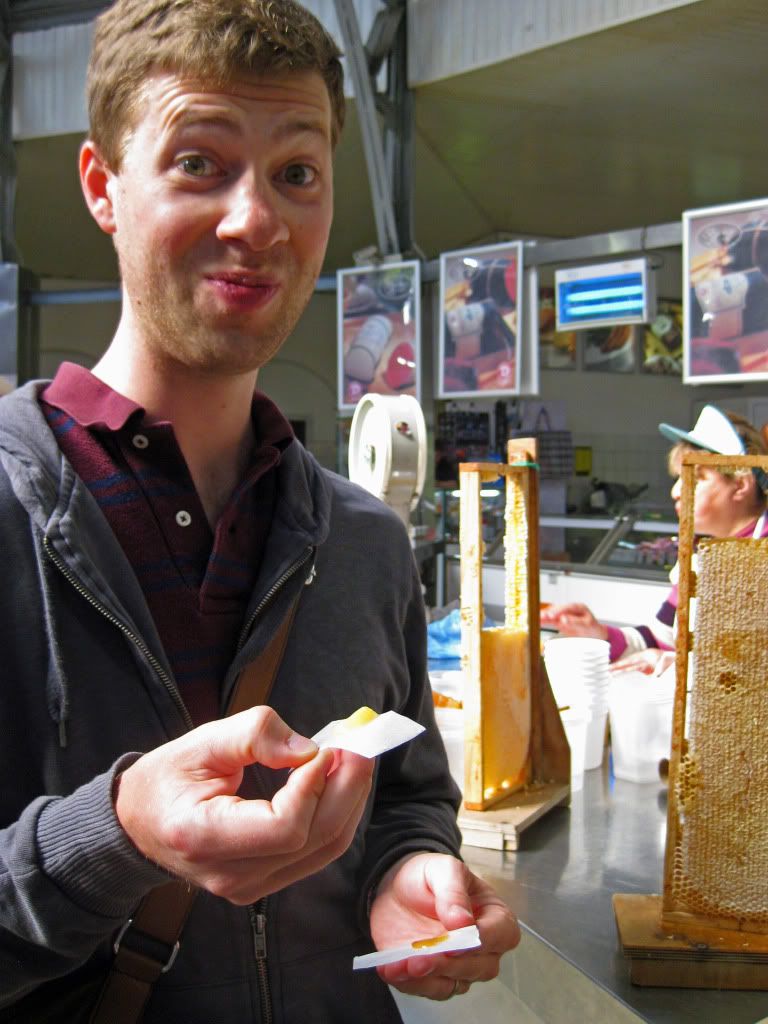 Speaking of sweet. Maria quickly learned that there was cotton candy on our Scandinavian cruise. I think it's safe to say that she was more than a little excited.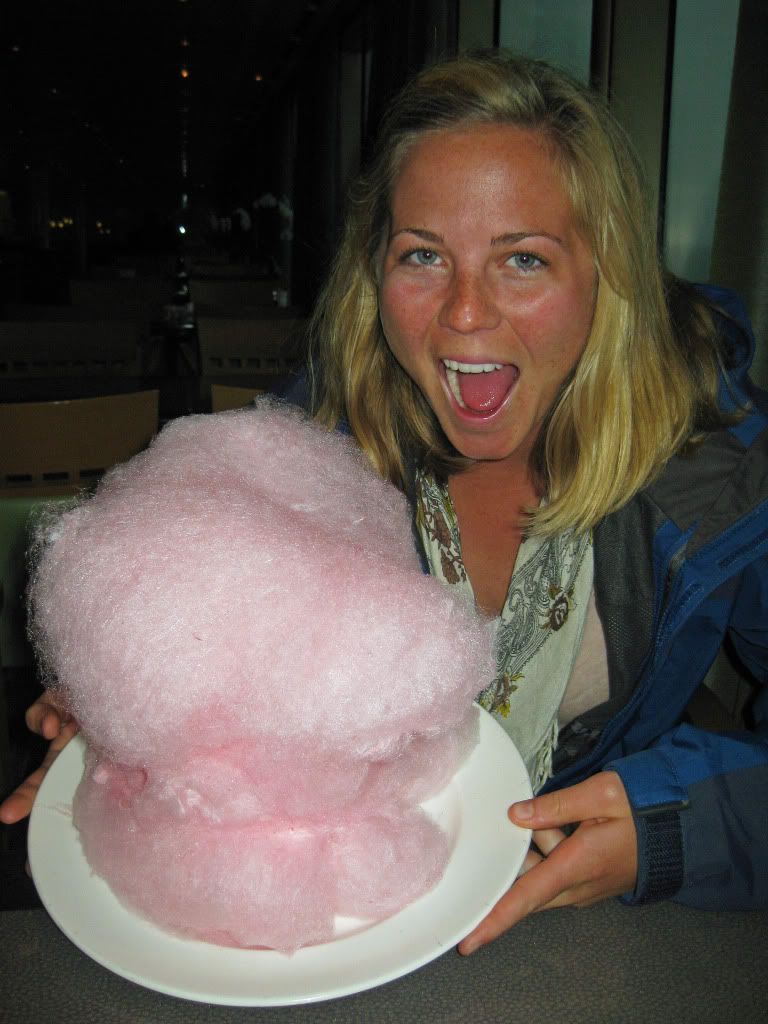 Wow, that's a lot of food! I hope you enjoyed a few of our edible experiences. All this talk about food has made me hungry, so I'm off for a snack. Bon Appetit!